In this section
Employee testimonials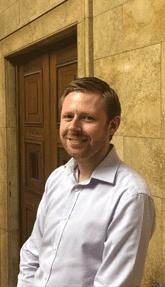 Liam Hornsby - Head of Enterprise Programme Management Office
I am the Head of the council's Enterprise Programme Management Office, which oversees our programmes and projects from across the council, employing a team of project managers to deliver our ambition programme of activity for the residents and businesses of Watford.
I have worked at Watford for almost thirteen years, in a number of different roles and I enjoy the dynamic culture and friendly environment. Watford might be a fairly small council but it thinks big and the bold and progressive vision is visible in everything we do, from the ambitious capital projects to the daily service delivery for residents and businesses.
The council have invested in me and, as part of our a strong training programme have provided me with the training, skill and knowledge to progress through the organisation. Watford is definitely a place where you can forge a long and successful career.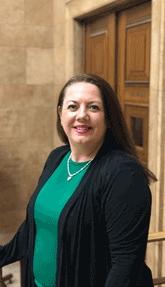 Barbara Farry - Customer Services
My role is Senior Customer Service Advisor in the Customer Service Centre. I work in a busy friendly talented team in the Customer Service Centre and it's great to work in a team that are committed to delivering the best service we can to our residents.
The Customer Service Centre are trained to take calls from customers relating to Council Tax, Housing, Environmental Health & Licensing, Planning, Electoral Registration, Building Control along with signposting customers to other organisations either online or by phone. We also deal with the Freedom of Information requests, email/web enquiries and social media responses for the Council's Twitter and Facebook pages.
I have been working in the Customer Service Centre for the last 16 years where I have gained most of my experience in local government. I initially started out as a Customer Service Advisor in 2005 and was promoted 4 years ago in 2017 to Senior Customer Service Advisor, which is a role that I was really happy to fulfil as I enjoy helping and training my colleagues across a whole range of queries. I am also a trained first aider and Mental Health First Aider.
I enjoy helping people, I love the positive vibe amongst the staff and members within our organisation and that no two days are the same.
The council also provides opportunities for staff to develop their skills and knowledge, welcomes ideas, embrace new approaches and ways of working, whilst continuing to deliver an excellent service to our customers.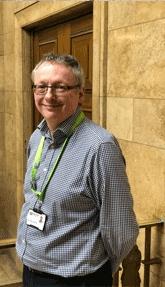 Alastair Napier - Senior Project Manager
I have been the programme manager for six months now for our Sustainable Transport portfolio of projects to 'improve the availability, awareness and choice of sustainable transport options to make Watford a greener and cleaner town for everyone.' I am also specifically responsible for delivering a number of individual projects such as our Bike Share scheme and Demand Responsive Transport service. Although highly experienced in project management, local government is a new field for me, but I am really enjoying the change in subject matter and I get to work on interesting subjects that I have not experienced before. Having come from a large organisation, I feel I can embrace the Council's vision for the future and bring my experience of cultural change to help us serve the people of Watford in a most challenging environment.
Having spent 28 years working for one organisation, coming to WBC had the potential to be a difficult transition. What has helped me enormously is the people here – they are welcoming, supportive and willing to help a 'newbie' like me. For me, working in a friendly and people-oriented atmosphere is the priority. The first six months have also enabled me to get involved with the council's health and wellbeing agenda, training as a Mental Health First Aider and raising awareness of the support that is available to all of us, both in and out of work.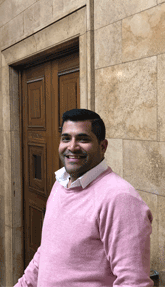 Rupin Shah - Junior Desktop Support Engineer
I have been working at Watford Borough Council since 2018 as a Desktop Engineer. My job role is to provide comprehensive support across the desktop and applications estate, management of third parties and all ICT customers and also assisting in any ICT projects. I enjoy working at Watford Borough Council as I feel I am surrounded by a lot of highly driven and successful people who genuinely care about their work. Every team member has a smile on their face. The council's visions of becoming digital minded is a great opportunity for me to learn about new technologies and help the council to implement them. Every day we try to implement new ideas for all the staff to work much more easily and stress free. There is opportunity for advancement, and chances to better myself within my department that I look forward to throughout my career. This is a great place to work as I am treated with respect and given daily encouragement.