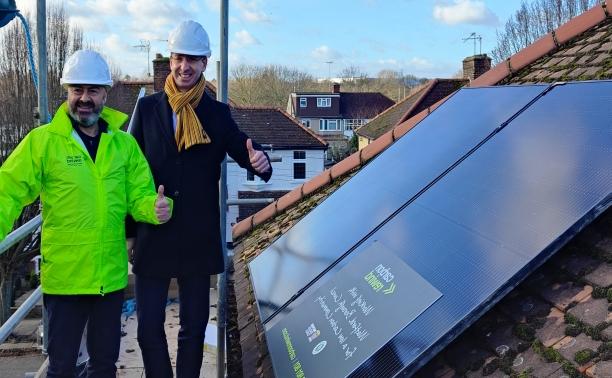 It is free to register and there is no obligation to go ahead with an installation...
*Uploaded on 28 August
Watford residents can once again take advantage of the chance to join the 'Solar Together' group solar panel purchase scheme, following the success of last year's effort, where over 400 solar panels have been installed and more scheduled by the end of the year.
Organised by the Watford Borough Council in partnership with independent experts iChoosr, this initiative known as 'Solar Together' was launched last year in the town. Its aim is to encourage people in Watford to switch to solar energy, which is better for the environment, and reduce their carbon footprint.
By joining forces to buy solar panels in bulk, the scheme can get them at a lower cost and share the savings with participants, offering a great deal on high-quality solar panels.
Since the launch of the scheme, more than 51 households in Watford have had solar panels installed so far, which are predicted to save these households a combined total of £50,000 each year on their energy bills. Additionally, over a span of 25 years, it is predicted there will be 815 tonnes of carbon reduction, which is a big win for the environment!
This innovative scheme builds on six years of highly successful Solar Together programmes run across the UK. To date Solar Together has delivered over 22,000 installations and over 460,000 tonnes of avoided lifetime carbon emissions.
It is free to register at solartogether.co.uk/watford/home and there is no obligation to go ahead with an installation. The offers include solar panels with optional battery storage and EV charge points, as well as retrofit battery storage.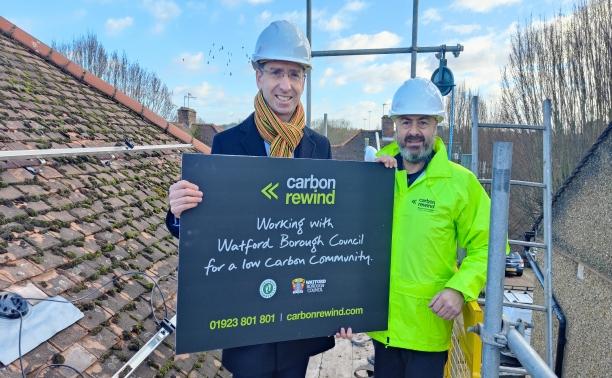 Elected Mayor of Watford, Peter Taylor, said: "Solar Together allows residents to take steps to reduce their carbon footprint and reduce their energy bills by acting together to bulk buy solar panels for their homes. We were delighted to see such a strong response to the scheme last year. It is an excellent example of how the council can bring the community together to take action against climate change. I hope that lots of people once again take up the offer this year."
Cllr Ian Stotesbury, Portfolio Holder for Transport and Sustainability, said: "We are thrilled to be a part of this initiative once again and are proud to have worked with Solar Together to deliver such a successful project previously. With the cost of energy so uncertain, and climate change such a profound challenge, we hope this helps more Watford residents make the move towards a greener energy."
Marie-Louise Abretti, iChoosr UK Solar Manager, added: "With energy prices continuing to increase, residents of Watford are looking for opportunities to reduce their carbon emissions, save on energy bills and increase their independence from the grid. The Solar Together group-buying scheme offers a straightforward way to make an informed decision and to access a competitive offer from a trusted, vetted provider."
As the world continues to tackle climate change, initiatives like the Watford group buying scheme will play an increasingly important role in reducing carbon emissions and building sustainable communities. You can find out more about what the council is doing – including its target to net zero carbon town by 2030 or earlier at www.watford.gov.uk/sustainablewatford.