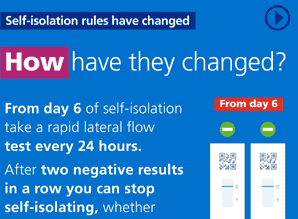 From Monday 17 January, those in self-isolation can reduce their isolation period if they test negative on both day 5 and day 6. This applies to all positive cases regardless of vaccination status.
If you have the main symptoms of COVID-19 - a high temperature, a new continuous cough, or a loss or change to your normal sense of smell or taste – even if mild, please take a lateral flow test to check if you have COVID-19 as soon as possible.
Individuals who are positive on their lateral flow tests must stay in isolation until they have had two consecutive negative tests taken on separate days.
Take a test on day 6 of the self-isolation period, and then a second test must be taken the following day. It is essential that two negative lateral flow tests are taken on consecutive days and reported before individuals return to their job or education.
The self-isolation period continues to be 10 days, and you may only leave self-isolation early if you have taken two lateral flow tests in line with guidance.
Those who leave self-isolation on or after day 6 are strongly advised to limit close contact and wear face coverings with other people in crowded or poorly ventilated spaces, work from home and minimise contact with anyone who is at higher risk of severe illness if infected with COVID-19.
The existing public health measures remain in place, including:
Staying at home if you feel unwell
Getting a test if you experience any covid-19 symptoms
Wearing a face covering in crowded, enclosed spaces
Working from home if possible
Maintaining social distancing and regular hand washing
What to do when self isolating
Do not allow anyone from outside your household to come inside, unless to deliver essential care.
Keep your distance from other members of your household
Leave windows open to improve ventilation
If possible, sleep and eat in a different room, and use a separate bathroom
If you share a bathroom, use it after everyone else and clean it thoroughly
You can read further guidance on what to do if you test positive
Getting your vaccine as soon as possible
The best way to keep safe and help our NHS is to get your vaccine or booster jab today. Find your nearest walk in centre in Watford. If you do not find a vaccination centre near you, please keep checking this page for new updates.
You can also visit COVID-19 vaccination information | A Healthier Future or the national grab a jab site.
If you would prefer to make an appointment for your 1st or 2nd dose or your booster you can do so.
Vaccinations for young people
Parents can still book COVID-19 vaccinations online for their 12-15 year old children, or use walk-ins with parental consent.
You can read more helpful advice in the NHS COVID-19 vaccine guide for young people available to download or read online.
Residents can read more about vaccination FAQs here: www.covid.healthierfuture.org.uk/vaccination-faqs