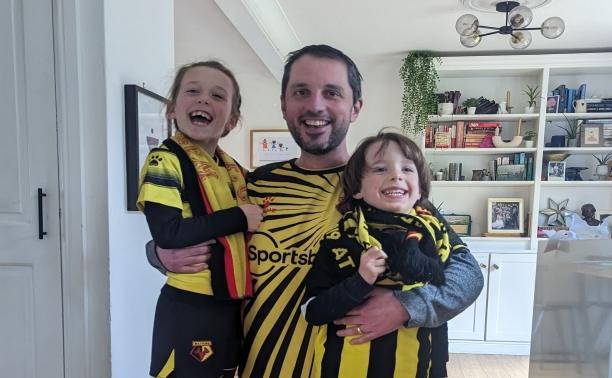 Watford local and devoted Watford FC supporter, Sam Defriez, celebrated a stroke of luck last weekend by clinching a £250 win in the Watford Community Lottery...
This follows hot on the heels of another £250 winner the previous week, marking consecutive weeks of sizeable wins in the lottery.
Sam, a lifelong resident of Watford, holds a deep affection for the town, valuing its distinctive character and vibrant community spirit. When he joined the Watford Community Lottery, Sam saw it as an opportunity not only to contribute to the town's charitable causes but also as a chance to potentially win something in return.
Unlike many lottery participants who select specific charities, Sam decided to let the Watford Community Central Fund distribute his contributions wisely among various causes. Expressing his gratitude and shock at winning the substantial sum, Sam shared, "I've never won anything more than a tenner on the National Lottery, so I'm sure you can imagine my shock when I won £250 on the Watford lottery. And this close to Christmas, the timing couldn't be more ideal!"
The Watford Community Central Fund plays a pivotal role in addressing the needs of the town's most vulnerable individuals, especially amid the ongoing cost of living crisis. This vital fund operates in two primary ways: firstly, by actively raising funds for the town's charities, and secondly, by allocating grants to support local organisations on the frontline, providing crucial assistance where it's most needed.
According to Sam, "Supporting the Central Fund was my way of giving back to the community, and I'm thrilled that my contribution can make a difference to those who need it most."
Elected Mayor of Watford, Peter Taylor, said: "The Watford Community Lottery continues to make a positive impact on the town, not only by fostering a sense of community spirit but also by generating funds that directly benefit local causes. Sam's win further underscores what the lottery is all about, rewarding its participants, while supporting charitable endeavours that uplift the Watford community."
To get involved and have a chance at being the next big winner, visit the Watford Community Lottery website at watfordcommunitylottery.co.uk.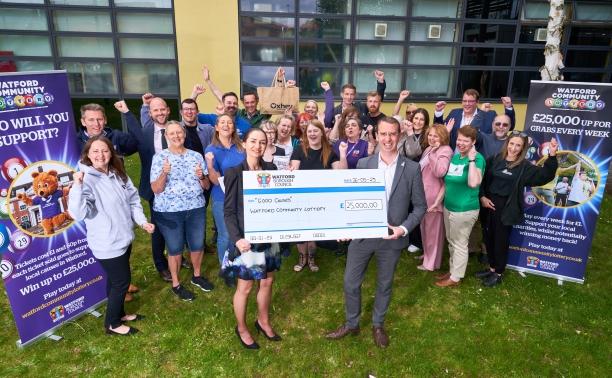 Good causes celebrating the launch of the Watford Community Lottery