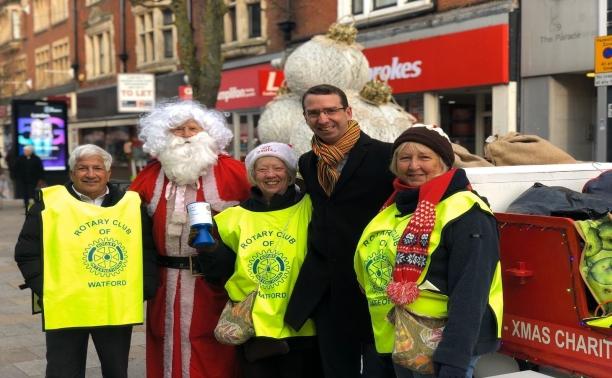 The Rotary Club of Watford is thrilled to unveil the anticipated routes for their annual Christmas Sleigh Ride throughout the streets of Watford...
The festivities promise to spread joy and holiday cheer to the local community during this special season.
Santa Claus himself will be gracing the streets, eagerly awaiting the chance to wish all supporters a very merry Christmas and a Happy New Year. The schedule includes visits to various supermarkets and designated areas, where families can catch a glimpse of the festive sleigh and join in the celebrations.
Here are the scheduled routes and locations for the 2023 Christmas Sleigh Ride:
Supermarket Visits:
Saturday 2nd (9 am - 5 pm) and Sunday 3rd (10 am - 4 pm) at ASDA
Saturday 9th (9 am - 5 pm) and Sunday 10th (10 am - 4 pm) at Morrisons
Saturday 16th (9 am - 5 pm) and Sunday 17th (10 am - 4 pm) at TESCO Extra
Streets and Neighborhoods:
Monday 4th Dec - Bucknalls Lane and Coates Way
Tuesday 5th Dec - Garston Lane and The Avenues
Wednesday 6th Dec - The Meriden, Westlea, and Eastlea Ave
Thursday 7th Dec - Leggatts Wood Ave and Cherry Tree Rd
Friday 8th Dec - Sandringham Rd and North Watford
Monday 11th Dec - Tudor and Knutsford
Tuesday 12th Dec - Woodside and Leavesden
Wednesday 13th Dec - Courtlands Drive
Thursday 14th Dec - Kingswood
Friday 15th Dec - Kingswood and Leavesden Green
Monday 18th Dec - Watford High Street cnr Clarendon Rd and Cassiobury
Tuesday 19th Dec - Cassiobury
Thursday, Friday, and Saturday 21st-23rd Dec - Sainsburys Dome roundabout
The Rotary Club expresses gratitude to Andy and Neil for their dedicated efforts in refurbishing the lighting and electrics of the sleigh. Additionally, Regal London's contribution of a sleek paint makeover has ensured the sleigh looks stunning for its festive journey through Watford.
Similar to last year, collectors will be equipped with card readers for those willing to make donations via card, providing an easy and convenient way to contribute to the local charities supported by the fundraising efforts.
The sleigh rides are scheduled from 6 pm to 8 pm, with the disclaimer that the timing may be subject to traffic and weather conditions.
Join the Rotary Club of Watford for a magical experience and contribute to the noble cause of supporting local charities this holiday season.
All monies collected during the event will be donated to various local charities, further enhancing the festive spirit and goodwill in the Watford community.