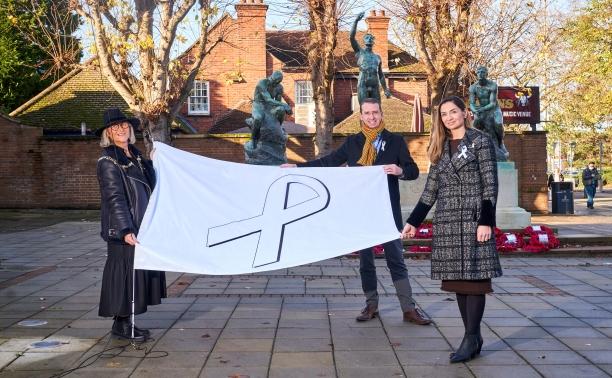 Watford Council is honouring White Ribbon Day on 22 November, expressing solidarity in the campaign against violence towards women and girls (VAWG) ahead of the official date on 25 November.
On Wednesday 22 November, Watford Council is marking White Ribbon Day (25 November) and showing our support for the elimination of violence against women and girls (VAWG) with a flag raising, a walk with our partners through the town centre and staff training. There will also be an information stand in the Town Centre with information on the support and resources available in Watford from 12pm – 4pm.
White Ribbon Day, an internationally recognised day for the elimination of violence against women and girls, is set to kick off '16 Days of Action Against Domestic Abuse', running from Saturday 25 November to Sunday 10 December.
In 2022, Watford Council received its 'White Ribbon Accreditation' for its commitment to end VAWG. The council is delivering a three-year plan, working closely with key partners, and voluntary and community organisations across Watford, to tackle behaviours or attitudes that excuse or enable male VAWG. As part of our commitment, on 22 November, staff will have the opportunity to attend enlightening training sessions that will provide valuable insights into the complexities of gender based violence, helping employees become more aware of the issue and the resources available to support victims.
All events are delivered by the 'Walk for Women of Watford' partnership which consists of Watford Council, Veolia, Watford Community Housing, Watford Women's Centre, Everyone Active and Watford Football Club.
From 12pm – 4pm, there will be a gazebo in the Town Centre (outside of TGI Fridays) where members of the public can receive information, badges and ribbons. The 'Walk for Women of Watford' partnership will be there to offer advice and support, highlighting the resources available in the town.
The Elected Mayor of Watford, Peter Taylor and Deputy Mayor of Watford, Cllr Aga Dychton, will be raising the 'White Ribbon UK' flag outside of the Town at 1.30pm. Then, along with council staff and its partners, will take part in symbolic walk from the Town Hall, starting at 1:30pm, to St Mary's Church.
Over the course of the 16 days, the 'Walks for Women of Watford' partnership are planning to walk at least 186 miles – a mile for each incident of domestic abuse reported in Watford last year. Watford Community Housing will be doing a walk on 28 November, departing from 49 Clarendon Road and ending at Watford Women's Centre, where refreshments will be served until 2pm.
Deputy Mayor Cllr Aga Dychton, Portfolio Holder for Community, "Gender based violence is an issue that affects far too many lives, and it's essential that we come together as a community to tackle it head-on. Through events like 'White Ribbon Day' and our 'White Ribbon' accreditation, we can send a clear message that violence in any form will not be tolerated in our town."
Residents who have been affected by gender-based violence are encouraged to seek help and support through various support services available in the region. These services are available for you to access free of charge, offering a lifeline to individuals who may feel trapped or silenced by their experiences. Importantly, individuals can access these services independently of the police, ensuring that those in need receive assistance in a safe and confidential environment.