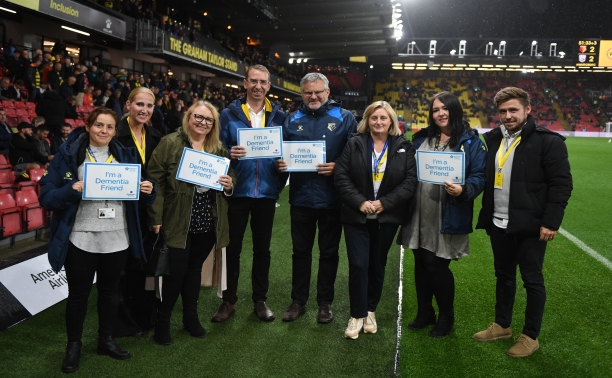 Dementia Friendly Watford, a movement spearheaded by Watford council, is proud to officially welcome Vicarage Road Stadium to our list of dementia friendly spaces in the borough.
As part of their continued commitment to inclusivity and accessibility, Watford FC is taking significant steps to ensure that all fans, regardless of their circumstances, can enjoy the magic of match days Vicarage Road.
The collaboration between Dementia Friendly Watford, the local football club with the Alzheimer's Society underscores Watford's dedication to making all venues dementia friendly and welcoming as possible for individuals and families affected by dementia. Their initiatives include:
Bespoke staff training: Staff at Watford FC have become 'dementia friends', receiving specialist training to better assist supporters and their families, ensuring they feel supported and valued throughout their time at the stadium.
Enhanced accessibility: The facilities have been improved, including easier access to lifts, entrances, ensuring that everyone can more around the stadium with ease.
Clear signage: New signage has been installed around the stadium to guide supporters and their families. These signs will highlight club contact points where families and friends can discuss specific requirements for their loved ones, ensuring a seamless and stress-free match day experience.
If you or a loved one are living with dementia and require additional support from the club to attend matches, please do not hesitate to contact the football club. Their dedicated team is there to assist you. Simply email disabled.supporters@watfordfc.com with your details, and one of their team members will reach out to discuss how they can tailor our support to your needs.
Elected Mayor of Watford, Peter Taylor, said: "Dementia Friendly Watford is about making sure that those living with dementia are understood, respected and supported in the town. Football is an important part of Watford's identity and should unit people of all background and abilities. This partnership between Dementia Friendly Watford, Watford FC Community Sport & Education Trust, and the Alzheimer's Society is an important milestone in the town becomes dementia friendly."