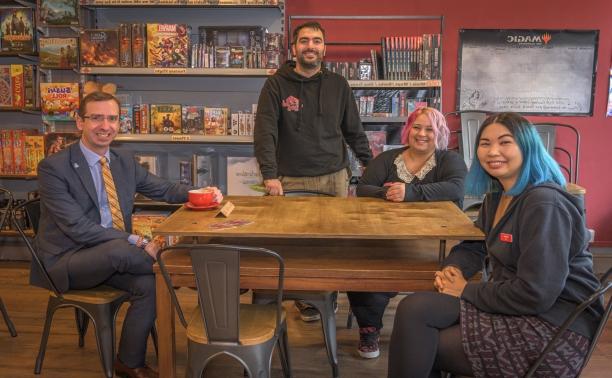 Watford has always had a thriving and vibrant local economy. We're making sure this continues and that our business community is supported to overcome the current challenges...
Join the movement: Greener Future for Watford's Businesses!
Watford Borough Council and local social enterprise Wenta, have teamed up for a two-year program aimed at helping SMEs reduce carbon emissions in the Watford area.
Through this innovative initiative, experienced net zero business advisors will provide free support to local businesses, including access to the latest learning content, resources and tailored support for their net zero journeys. Wenta understands that different businesses may be at different stages of their decarbonisation journey, which is why they offer bespoke guidance tailored to the size of the venture, industry sector and progress made so far.
To make sure that as many local businesses as possible can benefit from this program, Wenta is now offering free, dedicated guidance, resources and skills training support to at least 250 local Watford businesses. And the benefits to these businesses are numerous, from access to green grants to attracting and retaining staff teams, improving brand reputation and gaining a competitive edge over other businesses.
Wenta has over 40 years of experience in providing free support to SMEs, and their program for Watford businesses is second to none. It includes specialist learning content, virtual or face-to-face sessions with progress check-in calls, regular emailed content, templates, trackable progress, and all the resources needed to start or continue their decarbonisation journey.
Visit wenta.co.uk/watford_net_zero to learn more or get in touch with Wenta at 01438 310020 or info@wenta.co.uk. Let's work together to build a more sustainable future for all.
Step up your business game with Fit To Bid®: Watford's exciting new programme for SMEs!
Watford Borough Council has also partnered with Branduin Business Support to bring you the Fit To Bid® programme - an exciting initiative aimed at helping you actively engage in the local supply chain.
Through Meet The Buyer events, skills workshops, and 1-2-1 tender advice sessions, expert advisors will provide practical knowledge and skills to help businesses master the art and science of bid writing, and to submit bids to council procurement, construction and infrastructure projects, as well as large private sector buyers & suppliers.
Businesses can join the programme by clicking on the link and filling-in the Bid Skills Assessment Questionnaire at www.fittobid.co.uk/watford.