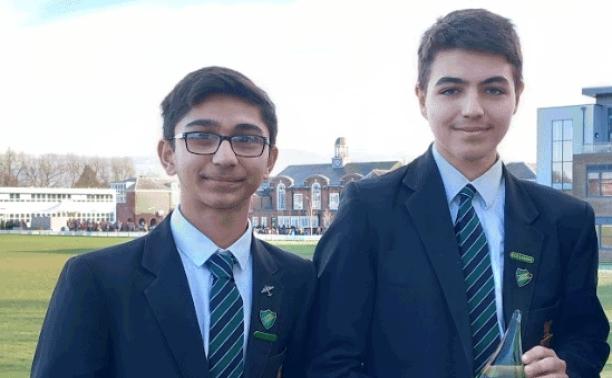 Veolia, in partnership with Watford Borough Council, welcomes its first Young Green Mayor, Muhammed Safa Kaya.
Veolia, in partnership with Watford Borough Council, welcomes its first Young Green Mayor, Muhammed Safa Kaya, who will call for positive climate action in Watford on behalf of all young people across the borough.
Secondary schools across Watford were invited to nominate a Young Green Mayor and a Deputy Mayor to represent the voices of young people in their community, and to champion a green initiative that local schools or the borough could benefit from.
Watford's first Young Green Mayor is 16 year old Muhammed Safa Kaya (known as Safa) and his Deputy Mayor, Adam Hasan from Watford Grammar School for Boys. They were elected based on their impressive eco-manifesto and green initiative, Plant for Life which they will deliver during their Mayoral Term.
In their roles, Safa and Adam will be mentored by Veolia Watford's Education and Outreach team, receive local democratic training from Watford Borough Council and have the opportunity to shadow the work of Elected Mayor of Watford, Peter Taylor. They have also received support from Veolia's Sustainability Fund to deliver their projects and help their ideas thrive during their Mayoral term.
The Mayor of Watford said: "I have really enjoyed chatting with Safa and Adam. It is clear that they have such a passion for environmental issues and really practical ideas for how our town can respond to this.
"Climate change is happening now but many of the effects will be felt by future generations. We will need to work together to hit our net zero carbon targets. That is why it is so important that we work with young people on environmental issues. The Young Green Mayor position is a great way for young people to get involved and inspire others.
"I hope Safa and Adam's "plant for life" initiative is a great success. By spreading information to schools across Watford about the importance of plants for the climate and for increased biodiversity, Safa and Adam will have a huge impact on how we tackle climate change across the town."
About our Watford's first Young Green Mayor: Safa Kaya
Name: Muhammed Safa Kaya
Age: 16 years old
School: Watford Grammar School for Boys
Deputy Mayor: Adam Hassan
Why did you apply to be the Young Green Mayor?
I applied to become a Young Green Mayor to be able to make a difference in my community. Helping the community in any way allows me to be a better citizen than I was before. It also encourages environmental change which is urgently needed in today's world.
How do you feel about being elected?
It makes me really proud to be chosen to lead the Plant for Life campaign as I truly believe it can positively affect the environment and hopefully create a positive effect that will go on for generations. I hope many others from Watford will undertake this role to make an even greater impact than I do!
What would you like to achieve with your initiative?
I would like to encourage every student to take action. The size of their actions don't matter as long as they are aware of the problems and take any action to make a change. Our aim
does not simply consist of encouraging planting trees but rather creating a generation that is more aware of environmental issues and the pertinence to solve them.
Plant for Life Initiative: how can Watford schools get involved?
The Young Green Mayor has developed an exciting education program to help encourage young people to plant more seeds and lead more sustainable lives. The Plant for Life initiative involves the Young Green Mayor and his Deputy Mayor providing education assemblies to primary schools throughout Watford to teach students about the importance of plants and their contribution to an ecosystem where fauna and flora can thrive.
Safa and his Deputy Mayor, Adam, will run education assemblies with schools and provide all students either with a packet of crab apple seeds or wildflower seeds to take home with them. Whether they take a packet of crab apple seeds or wildflowers will depend on the size of their garden and what they could feasibly plant. By providing students with free seeds, we hope that the initiative will teach them about the importance of taking small actions and instil the behaviour of planting a seed every year of their lives.
The sessions are suitable from Year 1-Year 6 and will be a 20 minute assembly.
If your school is interested in getting involved in the Plant For Life Initiative please email enquiries.watford@veolia.co.uk and copy in 18kayam@students.watfordboys.org.
How to plant seeds and look after them? Wildflower Seeds
Growing wildflower seeds is astonishingly easy. You can grow wildflowers at home in your garden or in a pot on a balcony.
Wildflowers blossom in areas with plenty of sunlight. Don't forget to use drainage pots so your plants are not waterlogged! Choose a location that gets at least six hours of sunlight a day.
You can also rake 20 cm of soil and add compost to encourage growth in your flowers. This is not necessary but may be beneficial for your plant to thrive especially in challenging weather conditions
Scatter the seeds on the ground or your pot to have the seeds spread out evenly for most growth.
Lightly rake the soil over the seeds, or cover them with soil or compost. This will help protect the seeds from birds and other animals that might eat them.
No watering the wildflower seeds regularly. Try to avoid overwatering and use drainage pots. Wildflowers can take a fairly long time to germinate. You are now very close to seeing your wildflowers grow.
Once the wildflowers have grown, it's important to keep them healthy. Water as needed, but avoid overwatering. Overwatering can lead to rotting of your plants roots. Finally, share the great results with your friends and family!
Crab Apple Seeds
Luckily your seeds are pre-stratified so you can skip the boring section! (Stratification is simulating the winter conditions the seeds would have experienced to initiate germination)
Plant the seeds in a flowerpot or directly in your garden. Any green space is sufficient.
Plant the seeds 3-5 centimetres deep and cover them with soil.
Don't forget to water your seeds! Keep the soil must but not waterlogged. You can use drainage pots(pots with holes on the bottom) to ensure this.
You can watch your seeds grow each day. It may take several weeks for the seeds to sprout but when it does sprout you will feel very proud of yourself. It is a great responsibility to look after your plant so make it a habit to check on it regularly.
After the plant has grown a couple of inches, transport them to a larger pot or into your garden.
Water the plant approximately once a week after it has grown a foot tall. Use common sense as well, if it rained throughout the week then don't water them and check on the soil and vice versa.
With proper care, your stratified crab apple seeds should grow into healthy trees in a few years. Good luck!