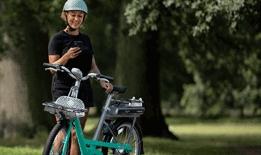 Beryl and scheme partners Watford Borough Council are launching a new campaign to encourage even more people to commute sustainably.
To help celebrate the onset of warmer weather and longer days, the 'Better by Beryl' campaign will offer users 30 mins and free unlock on pedal bikes or 15 mins and free unlock on e-bikes. The campaign will start on Monday 15 May and will run for three commuter weeks up to Friday 2 June.
The campaign aims to inspire even more people to use shared transport to get to and from work, by showcasing how much fun it can be and how many practical benefits it can bring, including:
Saving money on fuel and parking
Getting fitter, healthier and more active
Improving mental wellbeing
Avoiding sitting in traffic jams
Contributing towards reducing carbon emissions and boosting air quality
Users will also be invited to share their experiences and pictures of commuting by Beryl across social media channels, using the #betterbyberyl hashtag.
Beryl CEO Phil Ellis said: "We aim to remove the barriers that stop people using sustainable transport and direct feedback from our users show that more and more of them are turning to us for their daily commute. As well as the practical benefits of saving time and money, using our vehicles to get to and from work is also a lot of fun, especially when you're zipping past other people sitting in traffic.

"It's also true that an active and outdoor commute is good for physical and mental health, reducing stress levels and the risk of illness. So with the onset of better weather and petrol prices still at an all-time high, this is the perfect time for even more commuters to give two-wheeled transport a try."
Elected Mayor of Watford, Peter Taylor, said: "I am so pleased that Beryl are offering 30 minute free pedal bike rides or 15 minutes free e-bike rides. With longer and warmer days ahead, this is a great chance for residents to enjoy this healthy and sustainable way to travel.

"This offer will save people money, make them healthier and improve their mental wellbeing, as well as reducing congestion. I hope lots of people take up this great offer and enjoy their rides!"
Beryl's latest Annual Rider Report showed that commuting by Beryl is becoming more popular, with 55% respondents in Watford saying they did, compared to the 39% that said they did in the previous year's report.
The report also showed that people who used Beryl vehicles were more likely to use their car less, with 42% of all respondents in Watford having reduced their car usage since using Beryl - a 6% increase on the previous year.
Beryl Minute bundles are by far the most convenient and cost-effective way to travel. They provide a discounted bundle of prepaid minutes that can be purchased in-app and used for future rides.
For more information, visit https://beryl.cc/
*Limited to 2 rides per rider per day. Rationale = one to work and one home. Rides must be started and completed on weekdays only between 7:30am - 9:30am and 3pm - 6pm, Monday 15 May to Friday 2 June inclusive.