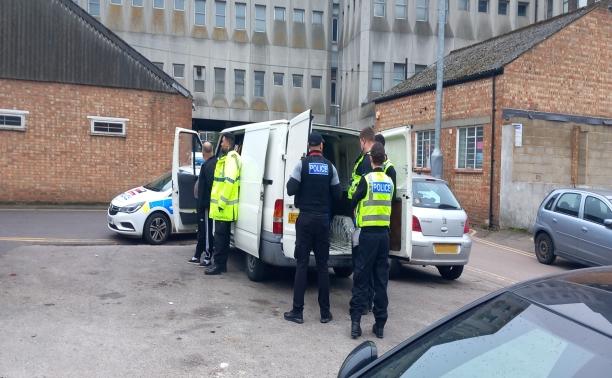 Recently there has been a spate of thefts and flytips of containers of used cooking oils from numerous food premises in Watford High Street. The council have been working to gather further evidence...
Watford Borough Council's Environmental Crime and CCTV teams, in collaboration with Hertfordshire Police, have been working diligently to gather evidence on the recent thefts and fly tipping of used cooking oil containers from various food establishments in the town centre.
On the morning of Monday 20 March 2023, the town centre CCTV control room alerted the police of the theft of oil containers in progress from the rear of a restaurant. The police acted swiftly, stopping a white Transit Van and detaining several individuals.
This was done by Watford's Safer Neighbourhood Team, as well as Watford's mobile unit to combat acquisitive crime, otherwise known as 'Operation Scorpion'.
The council's Environmental Crime Officers attended the scene and provided support. They quickly arrived and found several males who were arrested for offenses including commercial burglary, going equipped to steal, and possession of offensive weapons. The vehicle was seized by the council officers, and further investigations into outstanding environmental crimes are ongoing.
Phil White, Senior Environmental Crime Officer, said: "This successful operation is a testament to the continued cooperation between Watford Borough Council and the local law enforcement agencies. It is a reminder that criminal activities will not be tolerated and that the council remains committed to protecting our local community's environment and well-being."