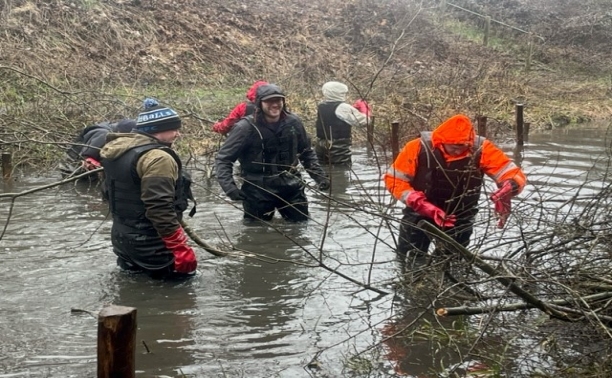 Councillor Stotesbury and dedicated volunteers help to progress imporant council project 'Rediscovering the River Colne'.
Become a River Colne volunteer
Dedicated volunteers, led by Watford Borough Councillor Ian Stotesbury, Portfolio Holder for Transport and Sustainability, have started essential work to the River Colne as part of Watford Borough Council's flagship Rediscovering the River Colne project.
Over the last two weeks, a band of 16 enthusiastic volunteers from Groundwork South, Community Connections CIC, Wild Trout Trust and local businesses, kick-started works which will improve the river flow and enrich wildlife habitats.
Starting in Knutsford Playing Fields, the River Colne volunteers have re-used materials to create four berms – man made banks which help the river flow and which will be planted with native plants to increase biodiversity and attract more wildlife back to the river. In the coming weeks, the volunteers will set to work on creating another berm and a flow deflector.
Elected Mayor of Watford Peter Taylor added: "In my manifesto I made a commitment to make the River Colne cleaner and more accessible. It is fantastic to see the council's hard work and plans starting to make an impact and I'm looking forward to the huge benefits this project will bring to the environment and our community."
Cllr Ian Stotesbury, Portfolio Holder for Transport and Sustainability, said: "It has been a privilege to work with such a committed group of volunteers. Restoring the River Colne to its former glory is critical for biodiversity and for Watford residents.

"Rivers are home to an amazing range of wildlife and plant life but they can only survive and thrive if they have a clean and healthy environment. The Colne is also a precious asset which we should all be able to enjoy. Our Rediscovering the River Colne project will bring it back into the heart of the community, where it belongs."
The River Colne has been damaged by urbanisation and water quality issues. The Rediscovering the River Colne project - a huge 10-year project – led by Watford Borough Council and supported by Groundwork, aims to restore the river and bring lost habitats back to life. The project stretches from Knutsford to Waterfields in the north and centre and Oxhey Park to Lairage in the south.
There is a myriad of volunteering opportunities available and we encourage everyone to get involved. No contribution is too small to make an impact on this project.