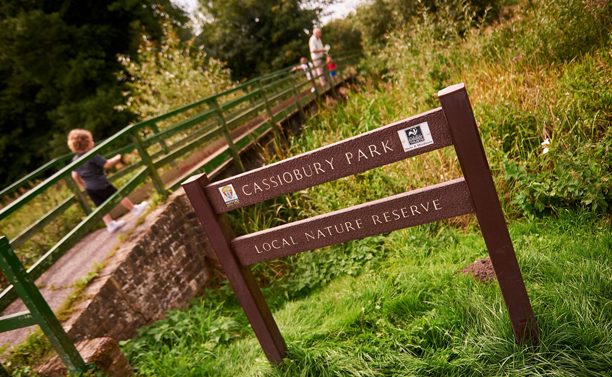 Nextdoor Nature is bringing communities together to help nature flourish where they live and work...
Thanks to £5million funding from The National Lottery Heritage Fund, Nextdoor Nature will provide people with the advice and support they need to help nature on their doorstep, and leave a lasting natural legacy to mark The Queen's Platinum Jubilee.
Communities in Watford will benefit from the initiative, which recognises that people can play a vital role in helping to solve the climate crisis and restoring our natural world, and aims to make sure that everyone, no matter where they live, can be part of this crucial movement and make the most of access to nature.
Nextdoor Nature in Watford is being delivered by Herts and Middlesex Wildlife Trust, who already have a strong track record of supporting local communities with wildlife projects, and who manage the nature reserve in Cassiobury Park in partnership with Veolia Environmental Services and Watford Borough Council. The funding from The National Lottery has enabled the Trust to employ Esme Staunton Howe as a 'Wilder Communities Officer' for Watford.
Talking about the project, Esme commented: "It's clear that people want to look after their neighbourhoods but knowing where to start is often hard. Nextdoor Nature gives people a platform to say how they want to get involved with nature on their patch, which is really important to me as I grew up in Watford and I want to see the town, its people and wildlife thrive.
"I'm excited to see a shift in making people feel like they can do something, to help people realise their own ideas, as well as linking up people, groups and organisations. There's already some amazing work underway in the local community and I would love to hear from anyone who is already taking action or who wants to in future.
She continues, "Since the pandemic, I think we have all become more aware of the benefits of outdoor space and how important it is to have access to nature - that connection has such a positive effect on our wellbeing."
Esme is looking to hear from anyone living or working in Watford who would like to do something positive for the environment. This includes, but is not limited to:
Individuals, groups and businesses
Schools, colleges and other educational groups and organisations
Under-represented groups in Watford and the local vicinity
A 'Wilder Watford' could, for example, see more people starting to grow their own vegetables and flowers, schools creating more areas for wildlife within their grounds, businesses or groups turning highly urbanised or unused areas into natural spaces for wildlife and communities to enjoy. The exciting thing about the project is the uncertainty of not knowing what will come out of it but that anything is possible and that everyone has the power to make a positive change.
Anyone interested in finding out more or wanting help or advice on individual, group or business wild projects, please email wildersupport@hmwt.org