In this section
Bus gate - Watford High Street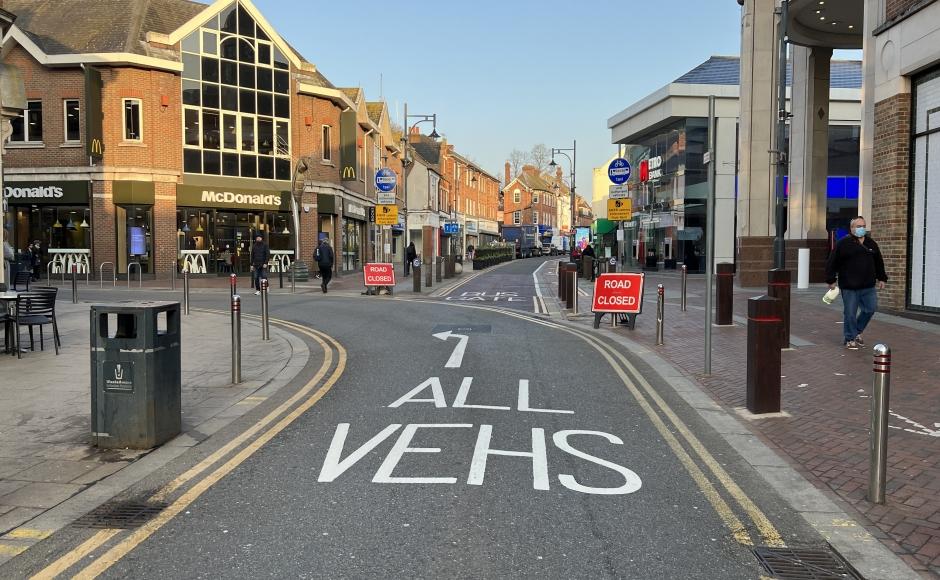 As of Monday, 4th April 2022, a bus gate is being introduced into the High Street to help reduce traffic and provide a safer town centre, which is less polluted and a healthier environment for walking and cycling.
The bus gate will restrict vehicle access into the section of the High Street between the junction of King Street and Market Street.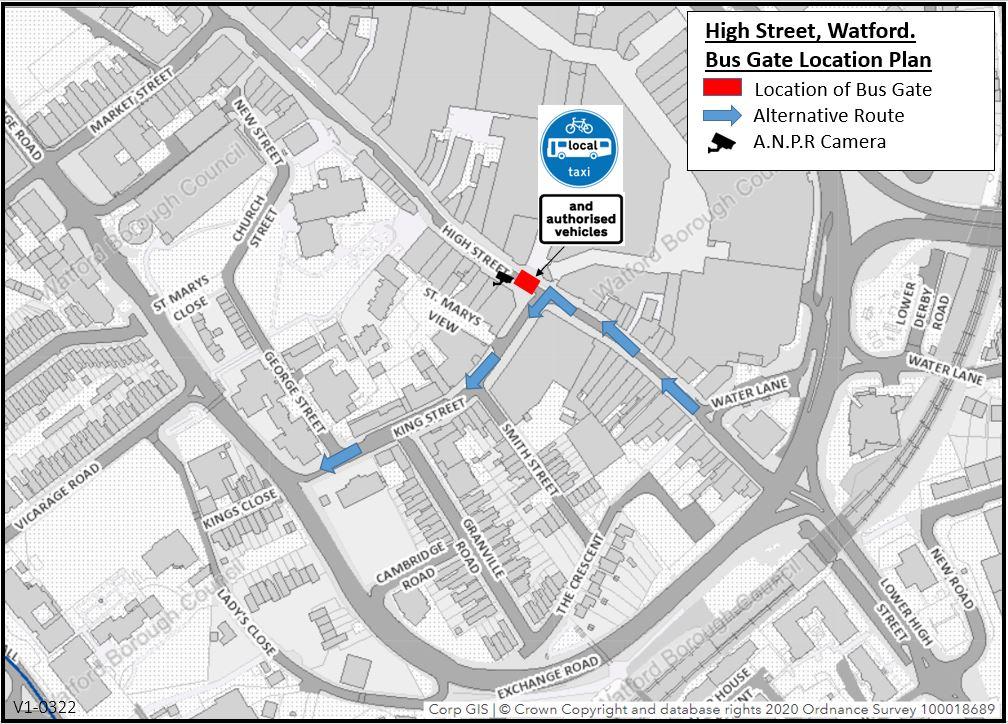 Who can access the bus gate?
General motorists will not be permitted to enter the bus gate, at any time. Any unauthorised vehicle that drives in to the bus gate area will be served a Penalty Charge Notice.
Buses, taxis and pedal cycles will continue to have access. Authorised delivery vehicles will also be able to access the area, (Monday to Friday, between midnight and 11am and 5pm and midnight) to use designated loading bays.
Blue Badge Holders
The Blue badge scheme does not provide an exemption to moving traffic offences. Blue Badge holders are therefore not able to enter the Bus Gate at any time.
Alongside the introduction of the Bus Gate plans are being developed to provide an additional 20 Blue Badge parking spaces around the Town Centre, such as in George Street, Church Street & King Street.
Blue Badge parking bays are available in Church Street, The Wellstones and Gaumont Approach. All of the Town centre car parks will also continue to provide Blue Badge parking facilities. Shopmobility Services are also available on the ground floor of Church car park.
The Blue Badge scheme also provides concessions to badge holders to park in pay and display bays, on street, for an unlimited period, if a valid Blue Badge is displayed. The nearest pay and display bays are located in King Street. A further concession is given to Badge Holders to park on single or double yellow lines for up to 3 hours, providing both a valid badge and clock set at arrival are displayed, the vehicle is not causing an obstruction and the road is not covered by a loading restriction.
How will it be enforced?
The enforcement of the bus gate will be carried out by a static approved camera. The camera takes a recording of all vehicles using the bus lane. After identifying those vehicles that are not allowed to use the gate an evidence pack is assembled and a Penalty Charge Notice (PCN) is issued by post. A PCN will be issued to any vehicle considered to be in contravention of the restrictions (using the bus lane when they are not permitted to).
The camera records images of vehicles contravening the bus gate. The information is stored securely and held in line with the Council's data storage policy.
You can get more information about enforcement and penalty charge notices, as well as parking and bus lane regulations for councils in England (outside London) and Wales that are in the Civil Enforcement Scheme on the PATROL website.