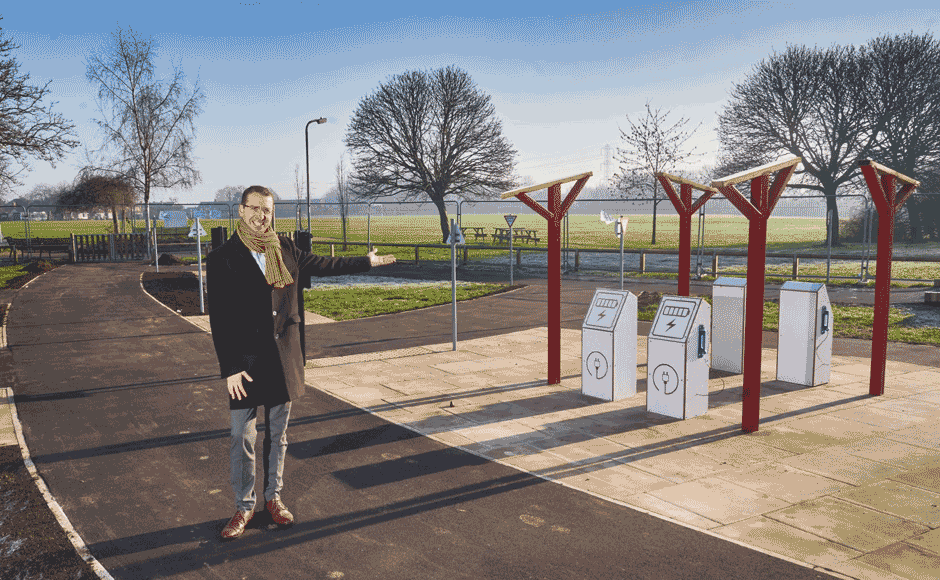 Works on the new learn-to-ride cycling facility being built in King George V Playing Fields are progressing well, with the project expected to complete by the end of February / early March...
The learn-to-ride space which aims to help people cycle safely and confidently, includes miniature roadways, traffic signs, markings and model buildings, and will allow cyclists of all abilities an opportunity to gain practical skills and understand how to cycle on today's roads.
Watford Cycle Hub which is also located within the playing fields, will be working with the council to provide learn to ride and Bikeability training courses at the new facility. These will be run by approved instructors and will take trainees from the basics of balance and control, all the way to planning and making an independent journey on busier roads. The courses are part of the government's national cycle training programme, which since its launch in 2006, has seen more than 3.5 million children take part.
Elected Mayor of Watford, Peter Taylor, said: "We've seen from the Beryl Bike share scheme that we introduced that there is a real appetite for cycling in the town, so it is great to see the progress on this new facility for the local community.
"Cycling is a fun, enjoyable and affordable way for people to get to school, the shops or see their friends. It is also environmentally friendly and has a positive impact on mental and physical health. If we want the next generation to continue cycling, we have to provide the training and facilities to do so. This provision will help to teach people not only how to ride a bike, but also the rules of the highway and how to be a considerate cyclist. As they say, once you learn to ride a bike, you never forget."
Portfolio Holder for Parks, Cllr Tim Williams said: "We know not all children, or parents, feel bike-confident, so providing Learn to Ride and Bikeability training within this facility will inspire the next generation to take to the roads as confident and capable cyclists. It will also play an important role in helping people choose a more active way to travel and our net-zero emission targets. There are an estimated one billion bikes in the world and in total they save over 238 million gallons of fuel every year."
Andy Farr, British Cycling's Head of Business Planning and Transformation, added: "We're really pleased to have been able to support the new learn-to-ride facility through our Places to Ride investment programme. This new addition to King George V Playing Fields will be the perfect cycling facility to get young children excited about getting out on their bikes and is an important opportunity for us to help young people develop both a love of cycling and for the outdoors."
The new facilities at King George V Playing Fields will enhance the town's current cycling offer, with the council's other investments including a new building for Watford Cycle Hub, expanding the successful Beryl Bike share scheme and installing wheeled sport facilities at the ever-popular Oxhey Activity Park.
Watford Borough Council, Sport England, British Cycling and the Department for Digital, Culture, Media and Sport (DCMS) via the Places to Ride programme are all working in partnership to complete the project.