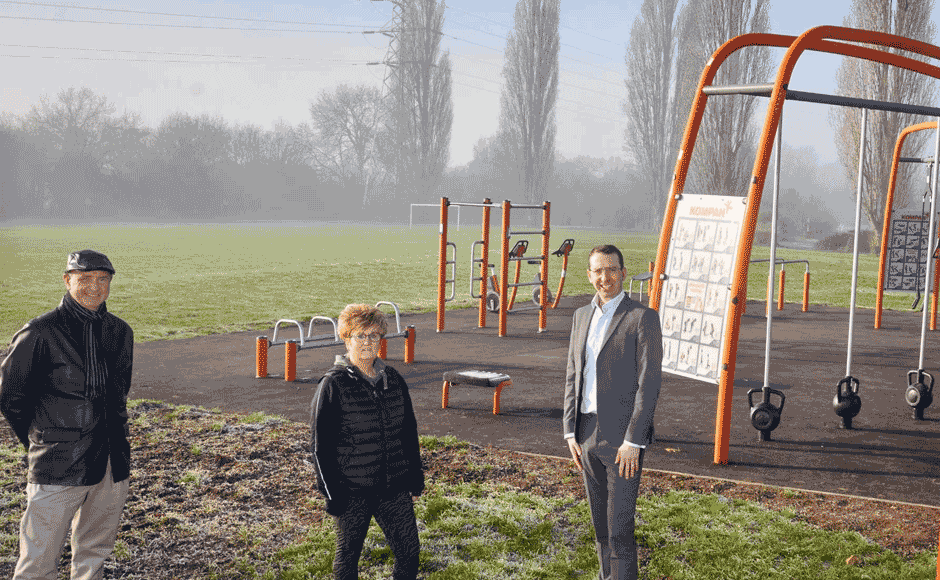 Thanks to new outdoor fitness equipment installed by Watford Borough Council in King George V Playing Fields, residents looking to make a healthy start to the New Year can keep fit for free...
Building on the council's commitment to help people live a more active healthy lifestyle, the free outdoor gym is fully accessible for users of all abilities and has been designed to cater for body weight training, increased flexibility and strength. There is also accessible equipment such as the hand bike, and the majority of the gym apparatus has instructions in a large font, wider seats and transfer handles.
The equipment is focused on calisthenic workouts, which is an exercise routine in which people train using their own bodyweight, such as pull-ups, push-ups, and triceps dips. This style is ideal for outdoor gyms and street workouts, as you can perform the exercises without any objects.
It is also ideal for individuals or group workouts (when restrictions allow) and offers something for everyone from beginners through to professional trainers, with each piece having start and finish diagrams which explain the technique.
Elected Mayor of Watford Peter Taylor said: "Outdoor gyms offer excellent, free fitness opportunities for residents. I'm really pleased we're investing in this new facility open in King George V Playing Fields. With over 15 outdoor gyms in Watford, we want to continue to ensure everyone has the chance to lead healthy and happy lives across all of the town. We hope it helps to improve the physical and mental wellbeing of people in the community.
"With the recent Green Flag awarded to King George V Playing Fields for maintaining the highest possible environmental, maintenance and visitor standards and the council's continued investment with the new Watford Cycle Hub building and the Learn-to-Ride facility being built at the park, this will be another valuable addition to this green space."
Councillor Jennifer Pattinson, Portfolio Holder for Wellbeing said: "The new outdoor gym builds on the existing fitness trail built in 2013 at King George V Playing Fields, which has been extremely popular with residents for the purpose of training and keeping fit, and we hope the new addition of the new gym equipment will further encourage residents to use the park for both health and leisure pastimes."