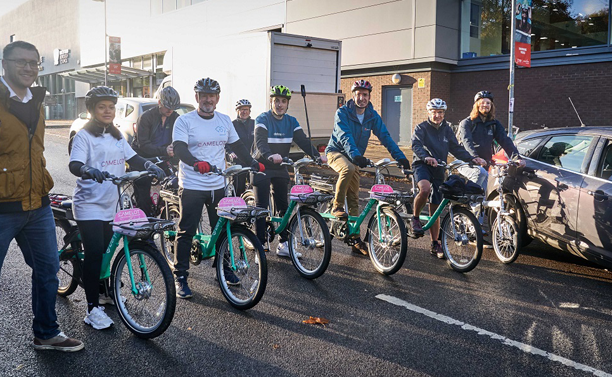 Beryl's new e-bikes have proven victorious in a race throughout town.
When it comes to getting around Watford, Beryl's new e-bikes have proven victorious – demonstrated earlier this week in a race from Woodside Leisure Centre to Watford Town Centre.
The competition involved representatives from Watford Borough Council, the Watford Observer, Camelot and Watford Cycle Hub. It commenced at Woodside Leisure Centre at 8:30am on Tuesday 9 November, with competitors using various modes of transport to see who could make their way around town in the shortest period of time. The competition used a variety of routes, and concluded at St. Mary's Church in the Town Centre.
Elected Mayor of Watford, Peter Taylor, took part using a Beryl E-Bike. From Camelot, Mike Pellett and Jodie Mulley, used Beryl bikes. From Watford Cycle Hub, Kate Jenkins, Sarah Smith, Harley Mann and Pete Boncey used a mixture of Beryl bikes and their own standard bikes. WBC's Kim Bloomfield took part in a car, and lastly, Councillor Ian Stotesbury made the journey by foot.
Peter Taylor came first on the e-bike, with a speedy time of 25 minutes. Next was Pete, Kate, Harley and Pete from Watford Cycle Hub who came in shortly after. The Camelot team arrived shortly after that at 27 minutes, Nathan from the Watford Observer came in at 34 minutes, and Kim in the car made it in 45 minutes. Lastly, though quite impressively, Councillor Ian Stotesbury arrived in 52 minutes.
Beryl, the British bike share operator, partnered with Watford Borough Council and scheme-sponsor Camelot back in 2020, installing 300 bikes and 70 parking bays throughout the town. Since then, the scheme has seen users ride an incredible 568,700 kilometres over 166,400 journeys in a year and a half – saving a whopping 90.42 tonnes of carbon.
Elected Mayor of Watford, Peter Taylor, said "I had a lot of fun racing around Watford on one of Beryl's e-bikes. They're perfect for longer distances or for those who need a little assistance to make their way around town.
"I'm glad that the scheme – one of my key promises – has been so well-received by the people of Watford. We were the first place in the UK to have e-bikes as part of a bike share scheme. It is so important that we make it easier for people to travel around the town and cut congestion in Watford."
You can watch the video of the race here. For more information about the Beryl Bike scheme, visit the Beryl bike website.