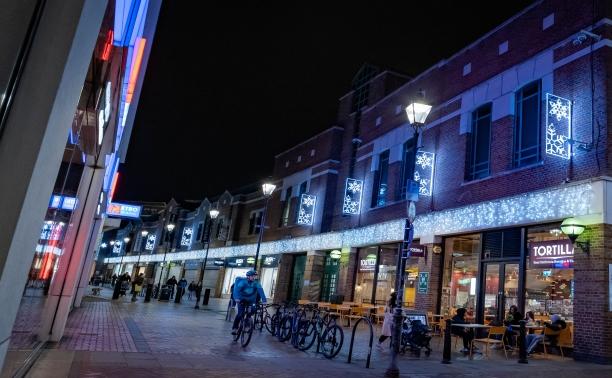 Watford BID has revealed new research showing that gift cards are the top choice for employee rewards...
Over 53% of employees would prefer to receive a gift card from their workplace for Christmas 2022, suggests Watford BID, higher than cash (33.1%) and social events (9.4%).
The research comes on the back of the Watford Gift Card celebrating over 2 years in Watford. The gift card was introduced as a means to drive local spend and encourage local shopping, and is part of the award winning Town & City Gift Cards initiative.
Over 1500 organisations, employers and consumers took part in the Town & City Gift Card research in August 2022 as part of a project to understand what people want from Christmas gifts, including from their workplace.
Watford BID says that the research shows that shop local is as strong as ever with over 80% of organisations and 90% of employees saying that support for local was important to them for Christmas 2022.
Maria Manion, Executive of Watford BID, said: "Choosing the Watford Gift Card for rewards/incentives is a way that organisations can transform the desire that employees have to support local businesses into a tangible action that benefits our community.
"Other key findings from the research include the move towards multi-store gift cards like the Watford Gift Card. Over 73% of employees said they would prefer to receive a multi-store gift card from work, instead of a single retailer gift card. The main reason for this was the enhanced choice on offer with a card like our gift card.
"Around 46% of people say they are either slightly or significantly worse off this year. In our research, 72% of employees said they would use their gift card on something practical. The great thing about the Watford Gift Card is that it can be spent on groceries or clothing, as much as on a meal out or a trip to the salon. It puts that choice in the employee's hands.
"Another finding from the research was that employees wanted to receive a gift card rather than cash as part of their salary. A big reason for this was because cash as part of the salary tends to get used on day to day expenses, whereas a gift card gives an employee permission to treat themselves, and is more interesting to spend.
"We also found that 79% of employees who receive a gift card through work make a specific visit into the town or city to spend it, with 47% spending their cards within 3 months. Choosing the Watford Gift Card for their staff, Registered in England & Wales no. 9851128 volunteer or even customer rewards and thank you gifts, is a way that organisations can drive spend to our local businesses, and be a local hero this Christmas."
Colin Munro is the managing director of Miconex and said: "All types of organisations can use the Watford Gift Card, from non-profits rewarding volunteers, to companies saying thank you to clients, or employees rewarding their team after a busy year. Cards can be preloaded for giving out to staff at once, provided as digital codes for staff working remotely, or even for organisations to use throughout the year in different amounts as required. Our goal is making choosing local easy an easy decision for organisations to make."
Find out more at: https://townandcitygiftcards.com/product/watford-gift-card