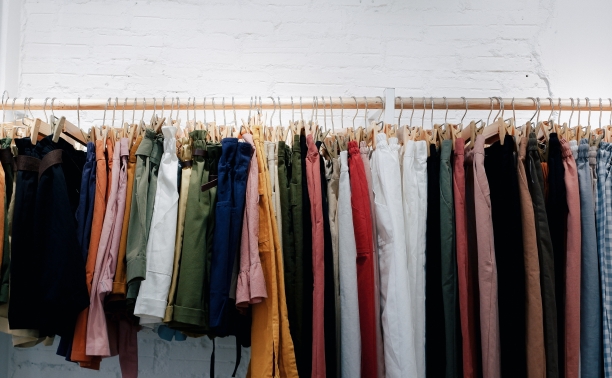 Bring along the clothes you no longer wear and swap them for something new, at Watford's Clothes Swap. Held in partnership with Veolia and WasteAware.
Clothes swapping is a fun, cheaper way to declutter and update your wardrobe. Taking part is simple – just come down to Watford Museum on Saturday 1 October from 10am, and you'll be able to donate up to 10 unwanted, adult-sized, good quality clothes which will earn you one token per item. Between 11am – 12:30pm, you can come back and exchange your tokens for new items. You can refresh your wardrobe and still be kind to the environment. Any surplus clothing items will be taken to a local charity shop after the event.
In the current climate, buying clothes can be expensive and also harmful to the environment. The most carbon intensive part of the life cycle of clothes is in its production, so by taking part in the clothes swap, you are helping to reduce your carbon footprint. Not only do our newly-bought clothes contribute to climate change in production, Hertfordshire County Council found that every year, residents in the county throw over 7,000 tonnes of textiles into their rubbish bins unnecessarily.
Elected Mayor of Watford, Peter Taylor, said: "In these times, we are all looking at ways to not only cut costs but also live more sustainably. With fast fashion playing a large part in the environmental crisis, Watford Clothes Swap is a perfect opportunity for people to be kind to the environment and save money at the same time!"
Darren Harding, Senior Contract Manager for Veolia said: "By taking steps to reuse clothes items before throwing them away, we're not only preserving resources as part of our dedication to ecological transformation but we're helping residents save money and building a more sustainable community. We're proud to support the Clothes Swap and hope to see as many Watford residents as possible updating their wardrobe on the day."
Please note, the following items will not be accepted as part of the Clothes Swap event: accessories (including jewellery and bags), nightwear, swimwear, underwear garments, children's items and shoes. Items must be in good clean condition. Items that have shrunk, are stained or need repairing (e.g. missing buttons, broken zips, loose sequins or beading, rips, tears, fabric pulls or holes, bobbly bits, disintegrating seams or hems, lint or fluff) will not be accepted.