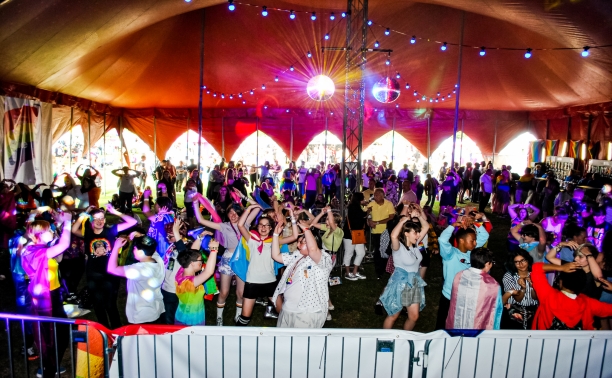 Herts Pride returns to Watford for 2022 and takes place on Saturday 20 August in Cassiobury Park, Watford Hertfordshire WD18 7LG from 12.00pm to 10.00pm.
An inclusive event for all to celebrate Hertfordshire's LGBTQ+ community and beyond. This year will be celebrating our 10th event.
Along with various stalls and a funfair, a line-up of amazing live acts will keep the crowed entertained on the main stage throughout the day. And for those fans of our four-legged allies, the ever-popular Herts Pride Dog Show will return once again for 2022.
There will be a variety of stalls to browse in the market shopping area with plenty of food to choose from in the catering area. In the Health and Wellbeing Marque you can get access to information or advice from several organisations.
Tyson Martin, Chair of Hertfordshire Pride Society: "2022 is a special year, and as Watfordian, I am delighted that Herts Pride celebrates its tenth event at Cassiobury Park in the year Watford celebrates its centenary as a Borough Council. It also marks the 50th anniversary of the first official UK Pride march which was held in London on 1 July 1972.
Pride is a celebration, but first and foremost it is a protest, an opportunity to highlight the injustice and discrimination the LGBTQ+ community continues to face here in the UK, and elsewhere around the world. In 71 countries, being LGBTQ+ makes you a criminal. In 11 of them, the punishment is death.
We would like to thank our sponsors for supporting Herts Pride 2022 and I look forward to seeing as many people as possible joining us in celebrating our tenth event.
I am also honoured as is Clive to have been nominated as 1 of the 100 people who have made Watford as part of the Centenary celebrations of Watford"
Elected Mayor of Watford, Peter Taylor, said: "One of the fantastic things about Watford is the diversity of our town. We are so excited for Herts Pride to be celebrating its 10th anniversary in Cassiobury Park, during what is also the borough's 100th anniversary, so we can celebrate with our friends in the LGBTQ+ community.
I would also like to thank Clive and Tyson for their tireless work over the years towards inclusivity and equality, not just in Watford but all over the UK. Their initiatives 'Ask for Clive' and 'Herts Pride' increase awareness of LGBTQ+ issues and encouraging the community to come together to solve them. There have been many advances over the years which we should celebrate but there is also more progress necessary, beginning with a full ban on conversion therapy."
Clive Duffey, Secretary of Hertfordshire Pride Society, and co-founder and Trustee of Ask for Clive also stated that "in establishing an annual event we have a day where everyone from the County and beyond is welcome to come and celebrate Hertfordshire's fabulous and diverse LGBTQ+ community.
There will be amazing acts performing on stage such as the amazing Miss Jason, a pillar of the LGBTQ+ community, who has entertained crowds nationwide for decades and our headline acts Angie Brown, Tina Cousins and Seann Miley Moore to name a few".
- Notes to Editors -
Herts Pride 2022 event admission:
The event is ticketed, and these can be purchased in advance online or bought on the day at the event. And attendees are given an event wristband at entry.
Herts Pride Dog Show:
The Herts Pride Dog Show is from 2.00pm to 3pm and the categories are: Waggiest Tail Most, Appealing Eyes, Rescue dog - Any dog that has come from an animal shelter, Best dressed, best trick, best small dog, best medium / large dog, best 6 legs - Dog and Owner, Dog the Judge Would Most Like to Take Home
Herts Pride 2022 is proudly supported by;
Headline Sponsor – Watford Community Housing
Presenting Partner – Watford Borough Council
Community Partners – Hertfordshire County Council and Three Rivers District Council
Supporters – UNISON, GSK and Viatris
Dog Show - Sherlock Legal Consulting, I.C.A.B, H.E.L Group and Home Instead.
Headline Acts Performing at Herts Pride 2022:
Angie Brown - is a British Singer & Songwriter from Brixton, South London. Brown is most well known as the featured vocalist on Bizarre Inc's hits "I'm Gonna Get You" (1992) and "Took My Love" (1993), "Rockin 4 Myself" & "Playin with Knives".
Tina Cousins - is a true 21st Century diva. She's stunningly beautiful, with a powerfully emotive voice and yet has one of the nicest personalities in pop. She achieved global success with the anthemic single 'Mysterious Times' alongside German DJ Sash, which reached No. 2 in the UK charts.
Seann Miley Moore - is an Australian singer from Sydney who participated in Series 12 of The X Factor as part of the Boys category mentored by Nick Grimshaw. They were eliminated in Week 2 of the live shows, finishing in 10th place.
For further information on our Headline Acts, please contact Karen Power on 07904 412 766 or email her karen@karpow.uk
Hosts:
Benjy Potter - Journalist, comedian and broadcaster
Allan Jay - a multi award winning Scottish recording artist from the UK known within the LGBTQ+ Dance Music Scene, and who has been an avid supporter of Herts Pride since performing at the first event in 2013.
Stephanie Von Clitz - Drag Queen Working All Over The UK!!!
For more information please contact: Tyson Martin, Chair Hertfordshire Pride Society:
Telephone: 07908 223320 Email: tyson.martin@hertspride.co.uk or Clive Duffey, Secretary Hertfordshire Pride Society: Telephone: 07469 711820 Email: clive.duffey@hertspride.co.uk
Due to the amount of people attending this fantastic event, we would advise to plan your journey to Cassiobury Park beforehand. Parking is limited and, where possible, we would recommend using alternative modes of transport. For more information about how to get to our award-winning park, please click here.