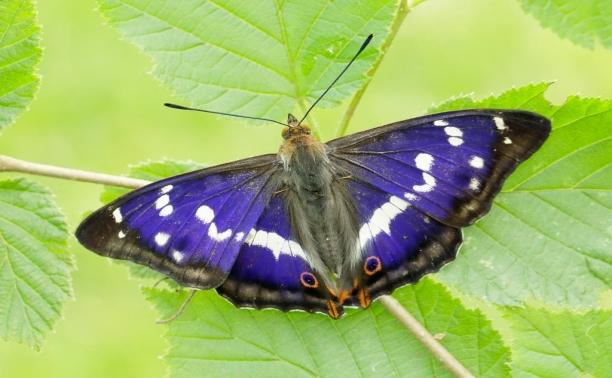 Find out more about restoration and rewilding projects helping to improve biodiversity in the area...
With wonderful wildflowers on display and an increase in wildlife in Cassiobury Park and Whippendell Wood, an array of biodiversity projects by Watford Borough Council are starting to show their success.
Last year, the council worked with Herts and Middlesex Wildlife Trust (HMWT), Butterfly Conservation and Friends of Cassiobury Park on their 'Rewilding' programme. Their extensive knowledge was used to guide management of the site, allowing for further wilder areas and planting of appropriate wildflower seeds for butterflies and insects. This partnership work will continue going forward to ensure the park stays as a wildlife haven.
Species that were planted included: Tufted Vetch, which attracts Bumblebees, Garlic Mustard, an important food plant for caterpillar species and also Sweet Vernal Grass and Crested Dogstail, both which are good source of food for the larvae of Brown and Skipper butterflies. They have been managed sensitively by reducing mowing for a more naturalised landscape and to help bring the countryside back into Cassiobury Park.
.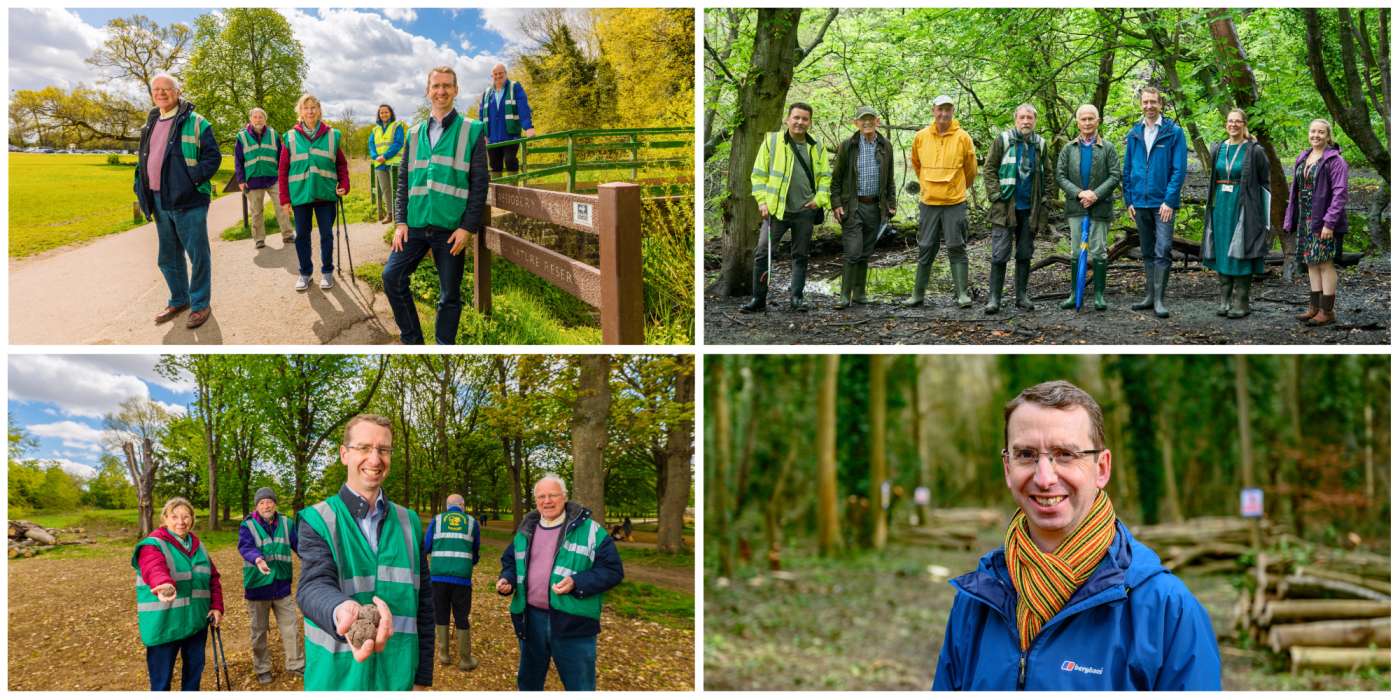 Photos of all the biodiversity projects at Cassiobury Park
The council's Whippendell Wood Restoration Project has additionally had a significant impact on wildlife. Restoration has involved the gradual removal of conifers from a plantation, to allow a greater amount of light to penetrate the woodland canopy.
This has encouraged specialist ancient woodland species to recover and reverse years of damage on this special site of Scientific Interest. HMWT have also been working with volunteers to restore glades and rides in the woodland, which will benefit a range of species, particularly woodland butterflies.
Continued partnership working between the council, HMWT and Friends of Cassiobury Park has also seen an increase in habitat management in the local nature reserve through a programme of practical conservation work parties. In addition, the Wetland Restoration Project at the site will recover the old watercress beds and other ponds, creating an extensive habitat for a range of species, especially threatened birds such as Snipe and Green Sandpiper.
Speaking about the works at the nature reserve, Chair of Friends of Cassiobury Park, Peter Jenkins, said: "Not only will the wetlands project restore habitat and increase biodiversity. It will also increase access to wildlife for park visitors and help with the management of the floodplain." Anna Daniels, Reserves Officer at HMWT, added: "Volunteers play a key role in nature's recovery and are making a real difference in improving the value of Cassiobury Park, both for wildlife and people".
Evidence from the success of these projects has been shown by the increase of Purple Emperor and White Admiral sightings at both Whippendell Wood and Cassiobury Park following walks and surveys this year. These magnificent butterflies declined steadily during the twentieth century and are now restricted to some of the larger woods in southern England.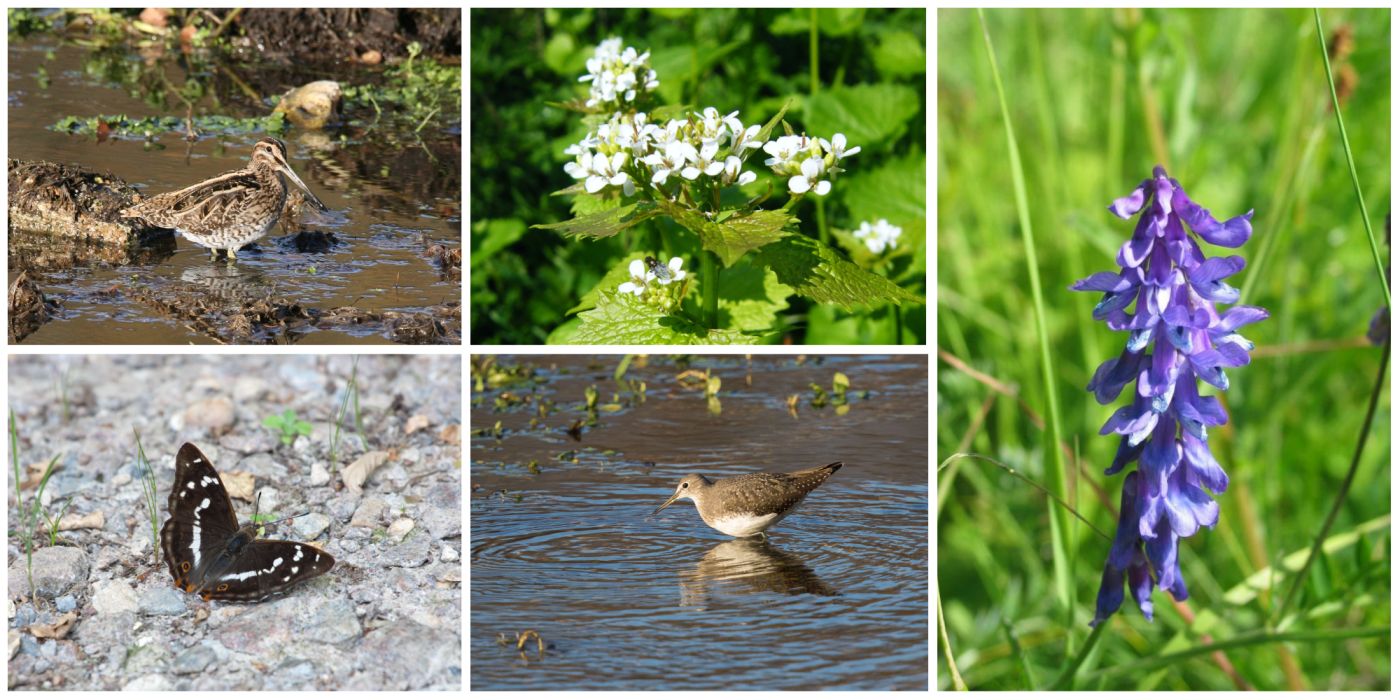 Photos of Common Snipe (c) Tim Hill, Green sandpiper (c) Tom Day, Garlic mustard, Purple emperor and Tufted vetch (c) HMWT
Malcolm Hull, Chair of Hertfordshire Butterfly Conservation, said: "Whippendell Woods has long been one of the best woodland butterfly sites in the county, with some of the highest numbers of White Admiral and Silver-washed Fritillary butterflies. It's great news that Purple Emperors are also now thriving on the site as well."
Elected Mayor of Watford, Peter Taylor, said: "Investing in our parks and open spaces and enhancing our environment is a key priority for us. These projects are not just good for wildlife, but they also boost our own wellbeing, with the sight of wildflower meadows in bloom and open spaces teeming with wildlife. It's really special to be finding such species in an urban park, and it's also great to see we are supporting pollinating insects, which are the lifeblood of our environment."
For anyone wishing to learn and care for the wildlife on their doorstep and take practical action for nature's recovery, HMWT run weekly work parties at Cassiobury Park and Whippendell Wood. Over the next few months, the focus of these tasks will be on meadow management to improve the diversity of wildflowers growing in the nature reserve. For more details, please contact reserves@hmwt.org.