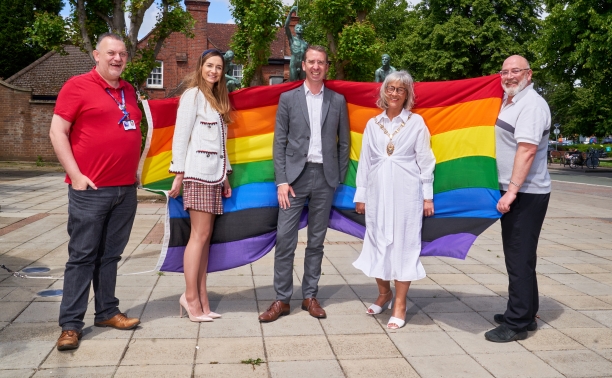 The rainbow flag has been raised outside Town Hall to mark Pride month ( 1 - 30 June) and to show Watford Council's support for the LGBTQ+ community.
To mark the start of Pride month, Elected Mayor of Watford, Peter Taylor, Deputy Mayor, Aga Dychton and Chairman Amanda Grimston, along with local LGBTQ+ activitsts Clive Duffey and Tyson Martin, raised the rainbow flag outside Town Hall.
Throughout June, communities across the world come together in celebration of love and friendship. Whilst it commemorates how far LGBTQ+ rights have come, it also highlights the work that is still be done.
To mark this special occasion, local LGBTQ+ activists Tyson Martin and Clive Duffey were also informed by the Elected Mayor of Watford that their community had nominated each of them as 1 of the '100 people who had made Watford'.
Clive Duffey was awarded for his work on 'Ask for Clive', an initiative to promote LGBTQ+ inclusion and provide welcome spaces with a zero tolerance towards discrimination. Since their launch, they have worked directly with local communities and venues, and collaborated with law enforcement on training and reporting initiatives.
Thanks to 'Ask for Clive,' over 2,000 venues in the UK now have the 'Ask for Clive' sticker which lets people know everyone is welcome and discrimination will not be tolerated. Click here to find a list of inclusive businesses in Watford.
Tyson Martin was awarded for his activism for the LGBTQ+ community and creating of the 'Herts Pride', Hertfordshire's largest LGBTQ+ festival, which is celebrating its 10th birthday this year. Starting at Watford's own Cassiobury Park, the festival has brought together thousands of individuals where everyone is welcome to attend and celebrate diversity.
Although the event is local, their mission is global – Herts Pride is used to increase awareness of these issues and encourage the community to join together to solve them. Cassiobury Park will once again be hosting Herts Pride on Saturday 20 August. If you're looking to volunteer, run a stall or provide food, please click here.
Elected Mayor of Watford, Peter Taylor, said: "Despite the progress that has been made for the LGBTQ+ community, there is still more we can do. Pride is a time to raise awareness of these issues and how we can come together to solve them. I am proud to honour individuals like Clive and Tyson and their tireless work over the years towards inclusivity and equality. They really have contributed to improving Watford, not just for the LGBTQ+ community, but for all of us."
Tyson Martin said: "It was an honour attending the raising of the Pride flag at Watford Town Hall today and a real surprise finding out that I have been selected as 1 of the '100 people who made Watford', this means so much to me especially as I am a Watfordian, and I wish to thank those people who have nominated me. Though June is Pride month, Herts Pride is held in August and this year our theme this year is #LoveWins. Pride is all about being proud of who you are no matter who you love."