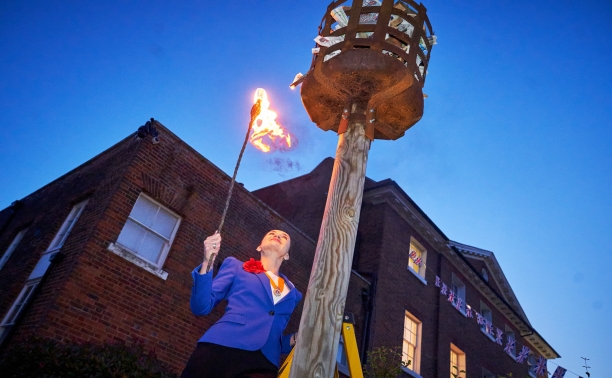 To launch the Platinum Jubilee weekend, Deputy Mayor of Watford, Aga Dychton, lit the commemorative beacon at Watford Museum on Thursday 2 June.
More than 2,022 beacons were lit throughout the United Kingdom, Channel Islands, Isle of Man and UK Overseas, and one in each of the capital cities of Commonwealth countries in recognition of The Queen's long and selfless service.
To celebrate the Beacon lighting attendees were treated to a fantastic performance of the specially commissioned song 'Song for the Commonwealth' by the London Military Wives. In addition to local residents, in attendance were newly-announced Chairman Amanda Grimston and Watford FC legend Luther Blissett. Earlier that day it was revealed that Mr. Blissett was being recognised in the Queen's Platinum Jubilee birthday honours with an OBE.
Deputy Mayor of Watford, Aga Dychton, said: "It was an honour to light the Beacon and start Watford's Jubilee weekend in celebration of our Queen who has lit up the country for 70 years. As a town we are thankful to Her Majesty for her years of service. I am very proud of the Watford community who came to join me to participate in such a storied tradition and to highlight this unique milestone in our history.
We were excited to have Luther attend the event so we could congratulate him on his OBE. As well as being a legend for Watford FC, Luther has helped many residents, supported veterans and arrivals from Ukraine. This recognition from Her Majesty, on such a momentous weekend, was thoroughly deserved."
Throughout the weekend, hundreds of street parties and local events took place, including Watford's Big Jubilee and Centenary Celebration at Cassiobury Park.