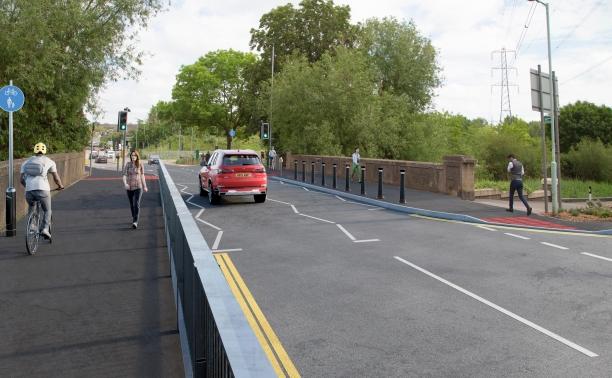 Hertfordshire County Council and Watford Borough Council will shortly begin work (week commencing 13 June 2022) on improvements to Wiggenhall Road...
This will result in the widening of the pavement to provide a two-way shared use path for pedestrians and cyclists. This will replace the existing temporary cycle lane facility that is in place adjacent to Riverside Park.
The work - undertaken in partnership with Watford Borough Council - will also include the widening of the existing signalised crossing point at the bridge over the River Colne and resurfacing of the footway on the eastern side of the road. Accessibility will be improved, especially around the entrance/exit into the popular Oxhey Activity Park and there will be better connection to existing National Cycle Network routes and two nearby parks.
The scheme will be the first to be delivered by the County Council following the award of more than £9m from the Department for Transport as part of the Active Travel Fund, which supports local authorities to create safer, easier to use spaces for those who cycle and walk. It will also support Watford Borough Council's 'Transforming Travel in Watford' strategy, to support changes to how people travel to, from and around Watford.
In July 2021, the County Council undertook public consultation on eight schemes across Hertfordshire, of which the Wiggenhall Road project was one. The public response to the scheme showed that more than three quarters (76%; 50 out of 66) of respondents agreed to some extent with the proposals, selecting either 'strongly agree' or 'tend to agree'. The scheme is also supported by the local County Councillor for the area, Stephen Giles-Medhurst.
Construction of the scheme was due to commence in February, however, due to emergency utility works in the area, delivery was delayed. Cadent Gas have now completed their works, meaning construction of the Wiggenhall Road scheme can progress. The works are expected to take approximately 8 weeks to complete, with all works undertaken overnight between 8pm and 5am. Any noisy works that are required will be between 8pm and 11pm.
Elected Mayor of Watford, Peter Taylor said: "We are committed to achieving carbon net-zero by 2030 and active travel is a vital part of achieving that target. We have seen a huge number of people get involved with our bike-share scheme over the last couple of years, showing there's plenty of appetite for cycling in the borough. However, it is essential we have the appropriate infrastructure in place to make it easier for people to use greener transport options. The works at Wiggenhall Road will play an important role in giving people the option to walk and cycle around Watford."
Phil Bibby, Cabinet Member for Highways and Transport, Hertfordshire County Council, said: "Following the public consultation that took place last year, a commitment was made to progress with the design of the Wiggenhall Road scheme. I'm delighted that work on this project is now ready to be implemented. Our aim is to offer all residents a cleaner, greener, healthier Hertfordshire. By increasing access to walking and cycling initiatives, we'll help to improve health, air quality, road safety and reduce traffic congestion."
Improvements to Wiggenhall Road are part of the Council's wider commitment to sustainable travel, improving the health and wellbeing of communities, making towns cleaner, less congested and better places to live, work and visit. The schemes help support the objectives of the Sustainable Hertfordshire Strategy and our Local Transport Plan
For full details of the scheme and its benefits please visit our website at Improving walking and cycling across Hertfordshire (Active Travel Fund) | Hertfordshire County Council
A report summarising the consultation outcomes on all eight of the schemes is also available to view online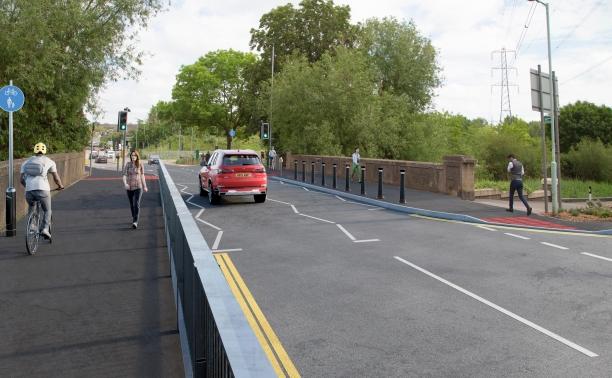 Image provided is an artist's impression of the scheme as of May 2022