Four local residents were honoured this week...

Published: Monday, 11th October 2021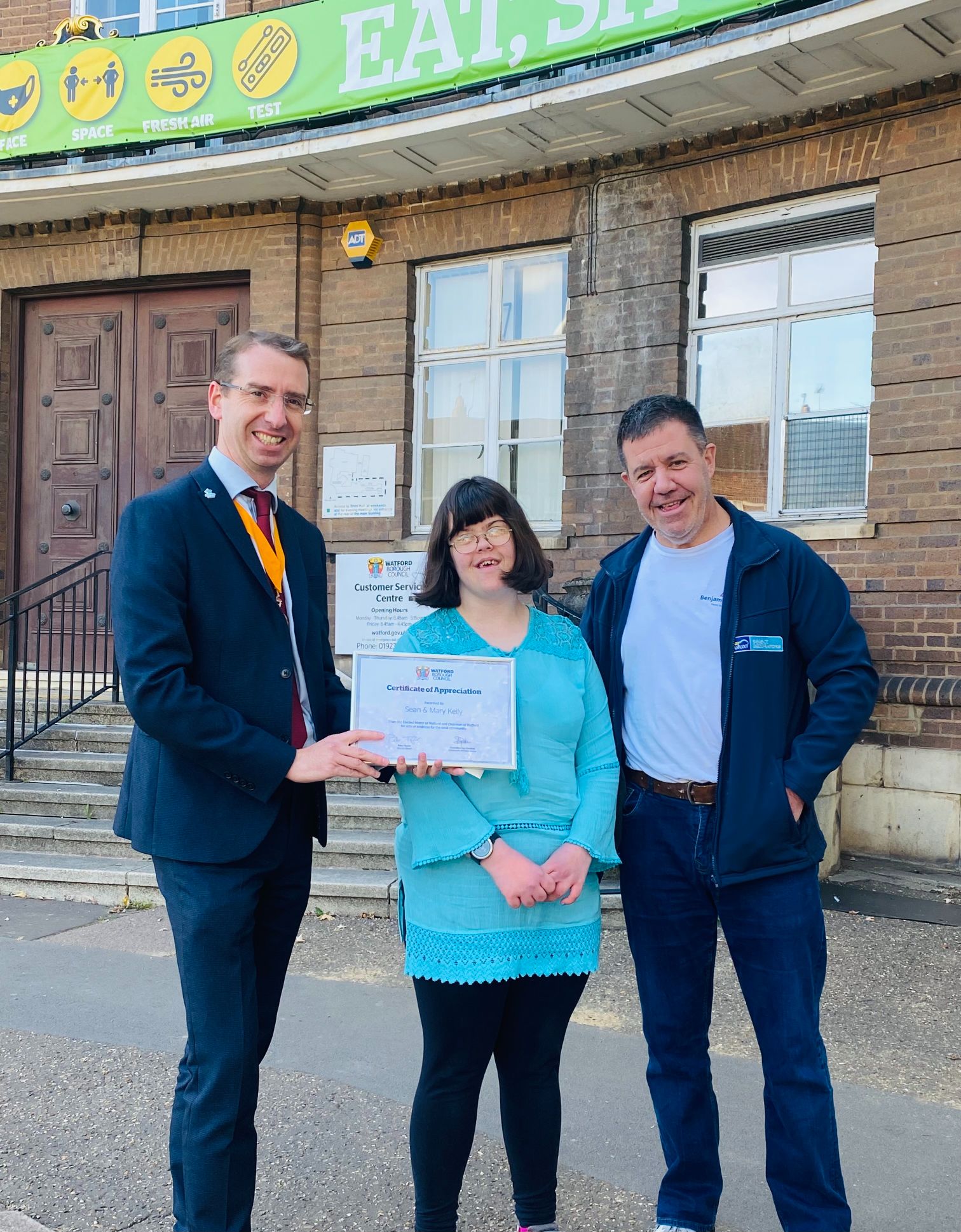 Four local residents were honoured by Elected Mayor of Watford Peter Taylor this week as part of Watford Borough Council's Unsung Heroes initiative.
The Mayor presented certificates and hampers to four people for their outstanding services to the Watford community:
Sandra Ferreira - The nomination said: "My neighbour Sandra made 75 growing seeds kits for the elderly and she also gave a little plant to all residents on our street during lockdown."
Stephen Daly - The nomination said: "Although he was furloughed from his job for three months, instead of sitting at home he decided to join the volunteers at Watford Football Club. He loved it and cheered up a lot of the doctors and nurses. He was so empathetic and supportive of them, cooking their meals and offering kind words. I would like to nominate him as we are so proud of him."
Sean and Mary Kelly - The nomination said: 'Both have volunteered for the local charity One Vision since the start of the pandemic, as well as supporting the homeless. Sean continued to volunteer even after having his van and tools stolen just before Xmas. They totally dote on each other and genuinely care about their community. They work in the food hub, collect food donations and deliver fresh food door to door for our service users. They're just the nicest people and so deserving.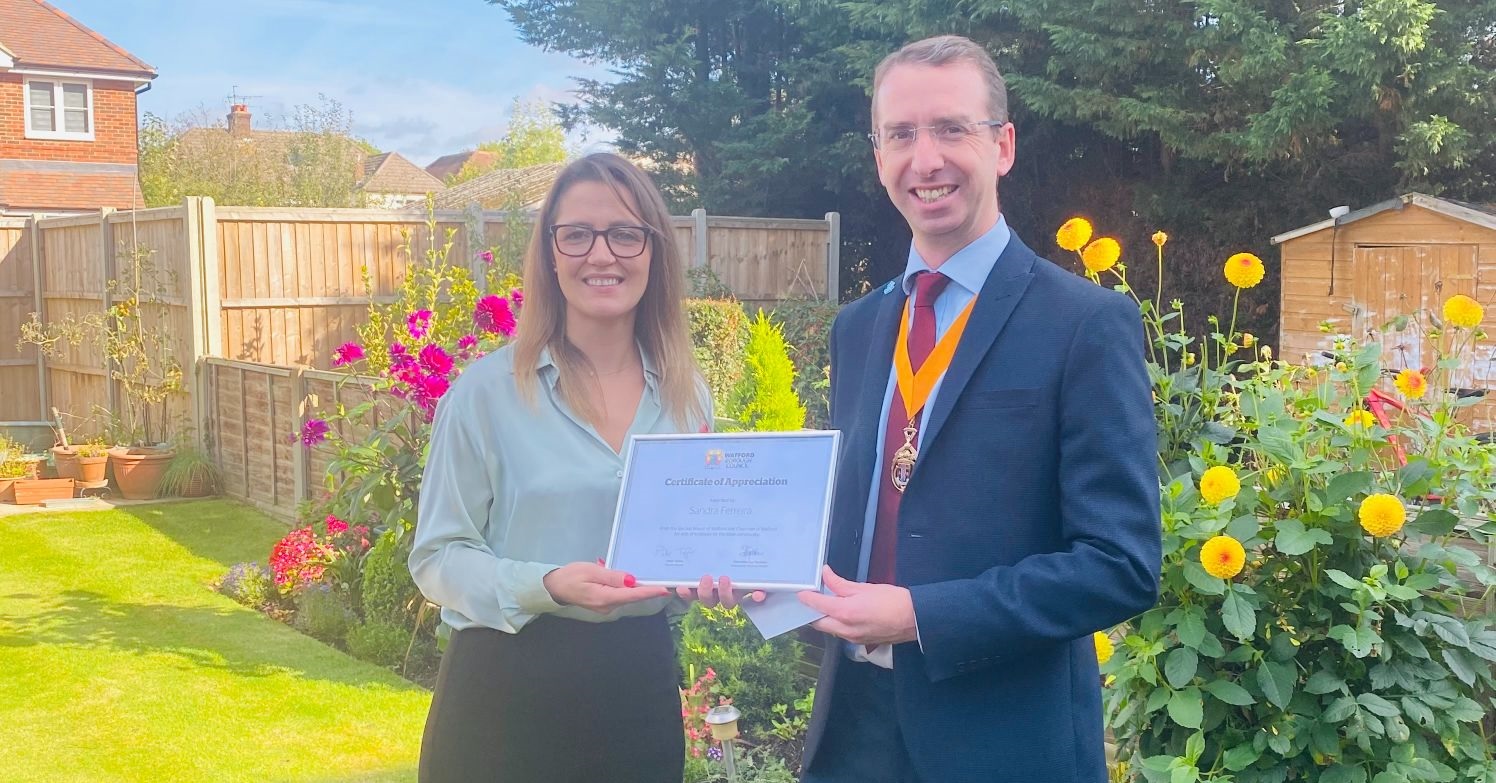 Mayor Peter Taylor with 'Unsung Hero' Sandra Ferreira
Elected Mayor of Watford Peter Taylor said: "The community spirit in Watford is second-to-none and the winners of the 'Unsung Heroes' award highlight that there are so many people, organisations and charities in the town who quietly go about transforming people's lives all year round and make an incredible contribution to our communities.
"It's a great honour to be the Elected Mayor of Watford and I feel privileged to meet such incredible individuals, who regularly dedicate their time and energy to helping others. It is heartening to understand their stories and contributions and I would like to say thank you to everyone who has been helping others and our award winners. You really make a difference and our town is so grateful for your kindness."
The 'Unsung Heroes' initiative will no longer be accepting nominations, however, Watford's 16th Audentior Awards will be recognising local people and organisations who are actively making Watford a better place to live and work in. The awards ceremony takes place on Friday 4 March 2022 at Watford Colosseum. To nominate your hero, visit www.audentiorawards.co.uk.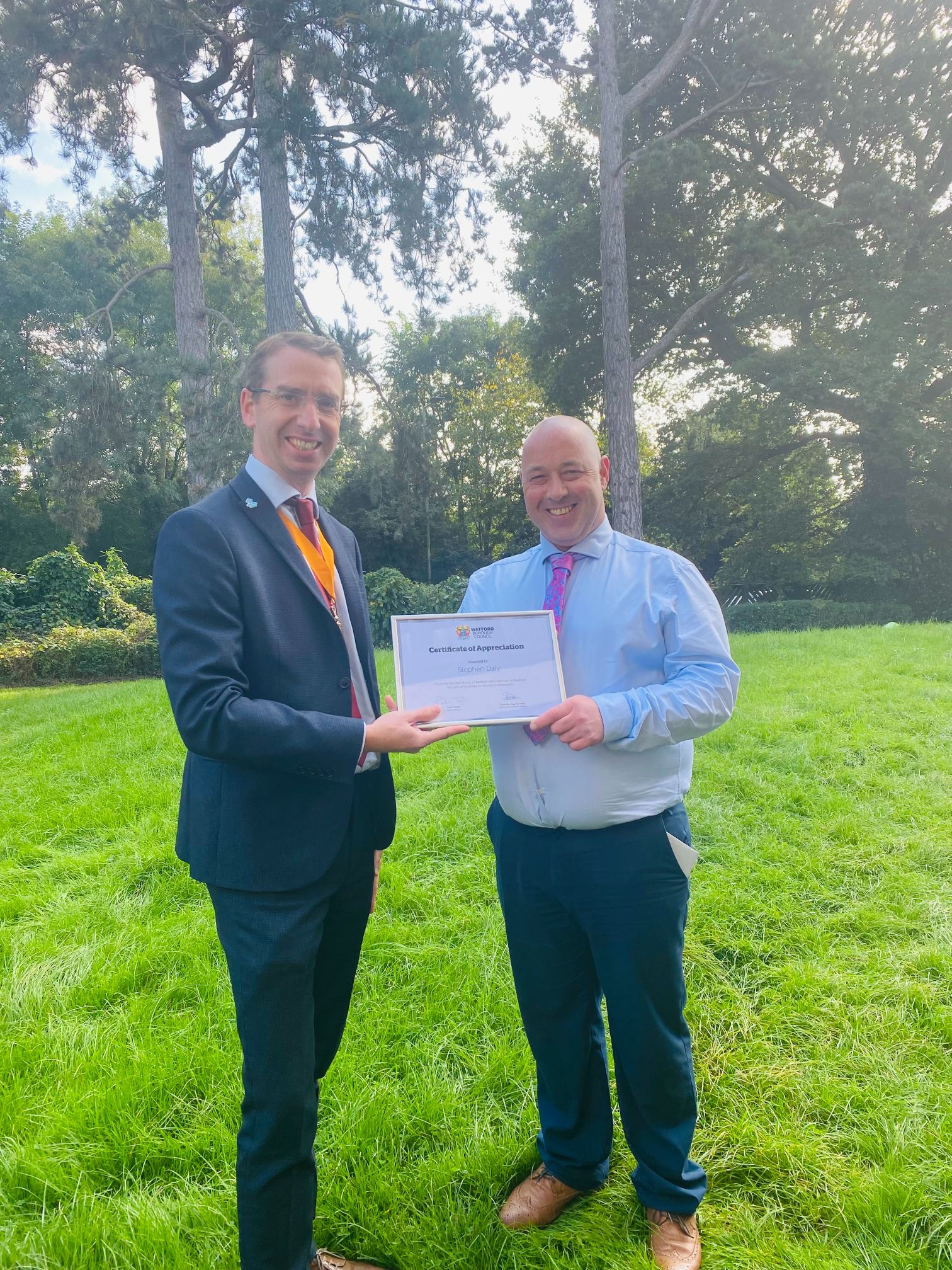 Mayor Peter Taylor with 'Unsung Hero' Stephen Daly