Past Mayors of Watford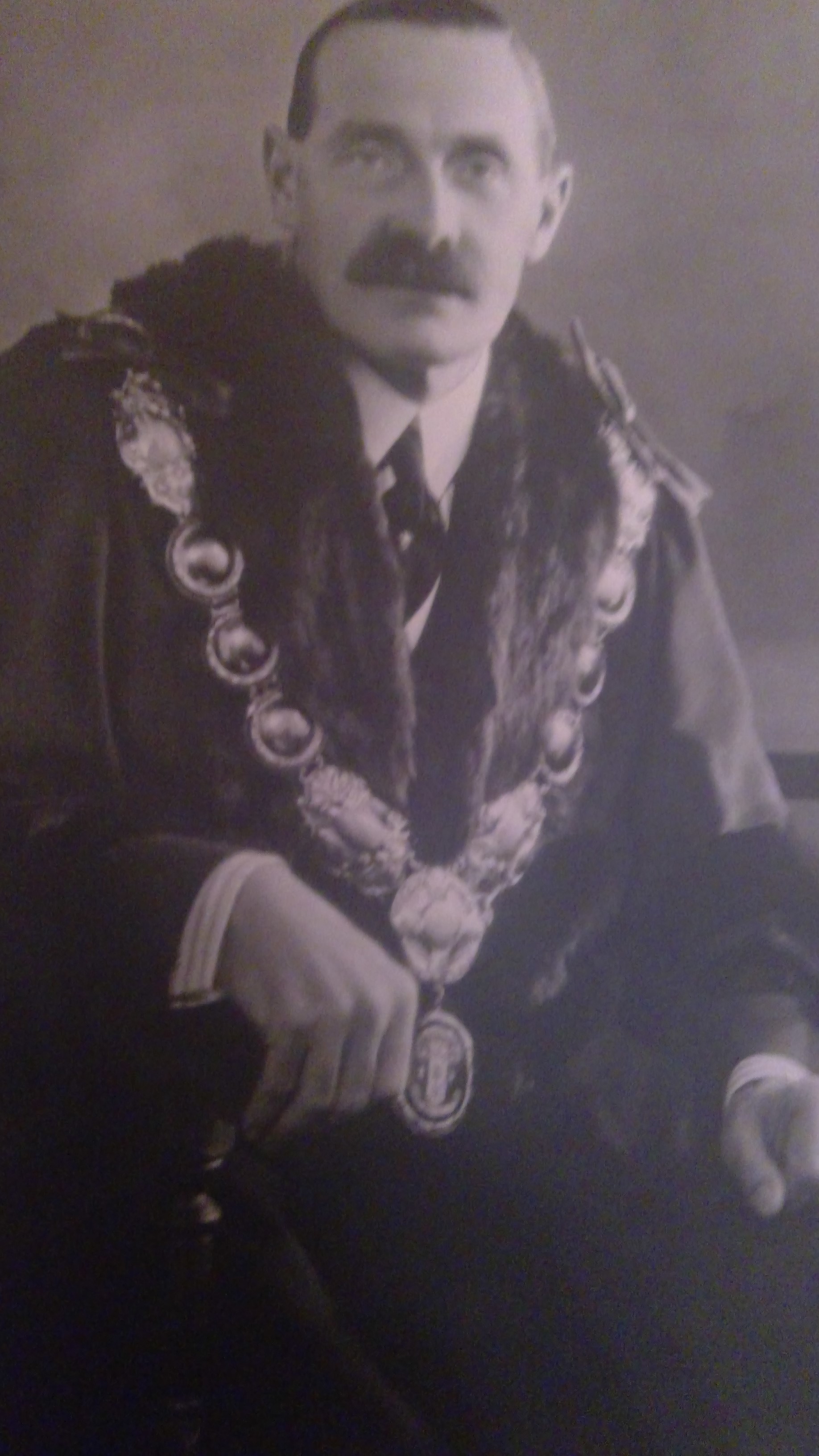 Watford became an Urban District under the Local Government Act 1894 and a municipal borough by grant of a charter in 1922. The first Mayor under the charter was the Rt. Hon. George Herbert Hyde, Earl of Clarendon.
Dorothy Thornhill, Baroness Thornhill, MBE, was the first directly elected Mayor of Watford and the first female directly elected mayor in the United Kingdom. She was Mayor of Watford from May 2002 until she retired from the role in May 2018, having been re-elected in May 2006, May 2010 and May 2014. She was nominated for a life peerage in August 2015.
The council also has a Chairman, who is elected annually by councillors and is the civic head of the council.
Past Mayors of Watford 1922 -2003:
1922-23 Rt. Hon. George Herbert Hyde, Earl of Clarendon
1923-25 Alderman Ralph Alfred Thorpe
1925-26 Alderman Henry Belcher Watkins
1926-27 Alderman Thomas Rubython Clark
1927-28 Alderman Thomas Rushton
1928-29 Alderman Francis Joseph Bache Hemming
1929-30 (April) Councillor Amelia Florence Broad
1930 (April to Nov.) Alderman Francis Joseph Bache Hemming
1930-31 Alderman Frederick William Jeffs
1931-32 Alderman William Bickerton
1932-33 Councillor Joseph Evans
1933-34 Councillor Charles Edward Griffin
1934-35 Alderman Henry Jules Bridger
1935-36 Councillor Ernest Charles Last
1936-37 Alderman Henry Coates
1937-38 Councillor Thomas Rigby Taylor
1938-39 Councillor Harry Horwood
1939-40 Alderman Lewin Halsey Andrews
1940-41 Councillor Ernest James Baxter
1941-42 Councillor Wilfred Harry Price
1942-43 Alderman Thomas Herbert Simmons
1943-44 Councillor Martha Ann Ward
1944 (Nov.) Alderman Herbert Waterman Beall
1944 (Dec.)-1945 Councillor Emily Gertrude Beall
1945-46 Councillor James Wright
1946-47 Councillor Ransley William North
1947-49 (May) Alderman Henry Coates
1949-50 Councillor Frederic Harold Vince
1950-51 Alderman Mary Edith Bridger
1951-52 Councillor L E Haines
1952-53 Alderman L C Johnson
1953-54 Alderman A G Dillingham
1954-55 Alderman J Davis
1955-56 Alderman E C Amey
1956-57 Councillor A Abbott
1957-58 Alderman H Horwood
1958-59 Councillor R W Gamble
1959-60 Alderman T F Harris
1960-61 Alderman E H Harrowell
1961-62 Alderman J R Hicks
1962-63 Alderman H W Lodder
1963-64 Alderman G W Knox
1964-65 Alderman A Reynolds
1965-66 Councillor L C Wright
1966-67 Alderman F Mackenzie
1967-68 Councillor Miss D M Scawen
1968-69 Alderman A L Merrifield
1969-70 Alderman J S Oliver
1970-71 Councillor R W Jackson
1971-72 Alderman Mrs. Mary Dodd
1972-73 Alderman R J Caton
1973-74 Councillor R S Horner
1974-75 Councillor W G Everett
1975-76 Councillor W T H Price
1976-77 Councillor D J Coleshill
1977-78 Councillor A W Bonney
1978-79 Councillor S Deakin
1979-80 Councillor N Tyrwhitt
1980-81 Councillor G Reynolds
1981-83 Councillor E C Amey OBE
1983-84 Councillor G R Greenstreet
1984-85 Councillor Mrs. M I Hughes
1985-86 Councillor Mrs. I Tunstall Dunn
1986-87 Councillor P Harrison
1987-88 Councillor L T Hughes
1988-89 Councillor P A Allen
1989-90 Councillor J M Watts
1990-91 Councillor V Conlon
1991-92 Councillor M Singh Chhina
1992-93 Councillor P Kiely
1993-94 Councillor J Horsfield
1994-95 Councillor M Green
1995-96 Councillor N Tyrwhitt
1996-97 Councillor P Harrison
1997-98 Councillor S P Rosser
1998-99 Councillor D Thornhill
1999-00 Councillor R Bell
2000-01 Councillor I Brown
2001-02 Councillor S Tuckwood
2002-03 Councillor Mrs S Jones
(2003 -to present date, designated 'Chairman')