Watford Borough Council is committed to an ongoing redevelopment programme that is set to secure economic prosperity for decades. Over the next 10 to 15 years, more than £1.5 billion worth of investment will be leveraged by the council as part of an ambitious plan which will create thousands of new homes and jobs, with significantly improved services, transport infrastructure and leisure facilities.
By providing the strategic lead for Watford's sustainable economic growth, the council is ensuring the borough remains a highly attractive proposition for residents and business alike. We apologise in advance for any inconvenience caused by works associated with these projects. The project teams meet regularly and are working together to ensure any disruption is kept to a minimum, and that Watford remains open for business.
---
Projects in progress
- Town Hall Quarter
The 10-year Town Hall Quarter programme brings together seven interconnected projects that will all contribute to revitalising the spaces around the Town Hall, opening up the area to create a vibrant neighbourhood, places for business and areas for all the community to use and enjoy.
It will secure the long term future of Watford's much loved local landmarks, the Town Hall and Watford Colosseum and the town's Museum and Heritage service. The plans have a strong focus on enterprise and new business, recognising that Watford is a great location for entrepreneurs and growing businesses and seeking to provide a new hub for start-ups and new enterprises.
The scheme also presents a great opportunity to support the town's ambitions to achieve carbon zero by 2030, with a major programme of work to make both the Town Hall and the Colosseum greener and more energy efficient planned over the next year.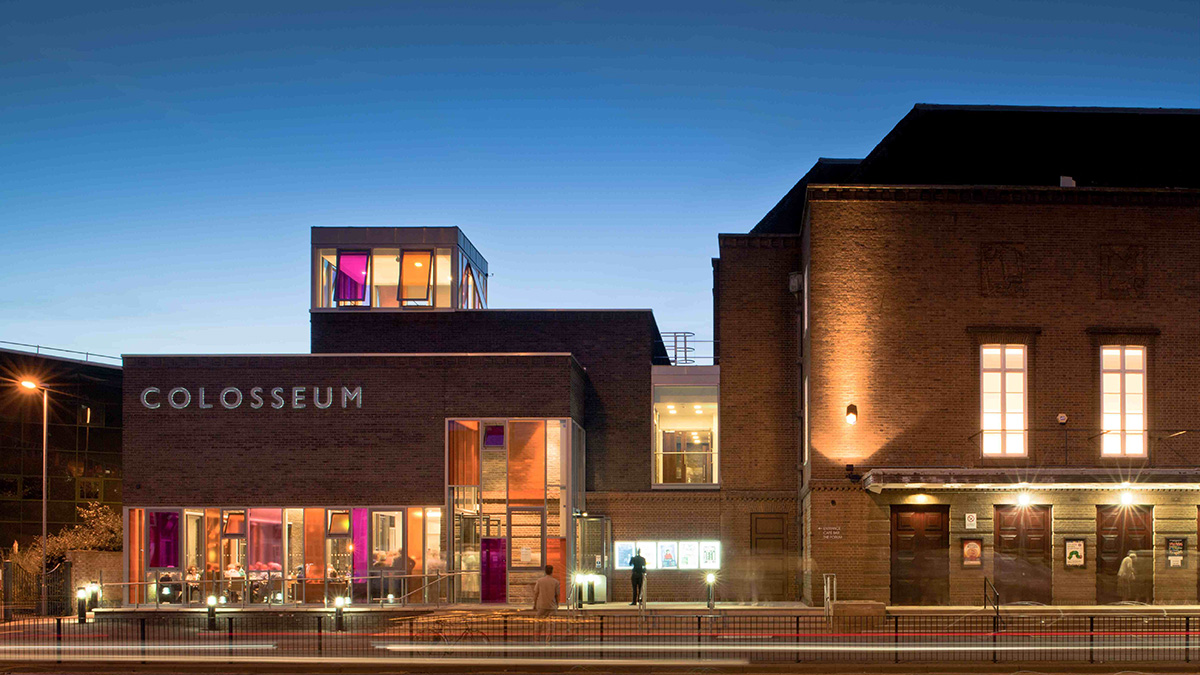 ---
- Market Street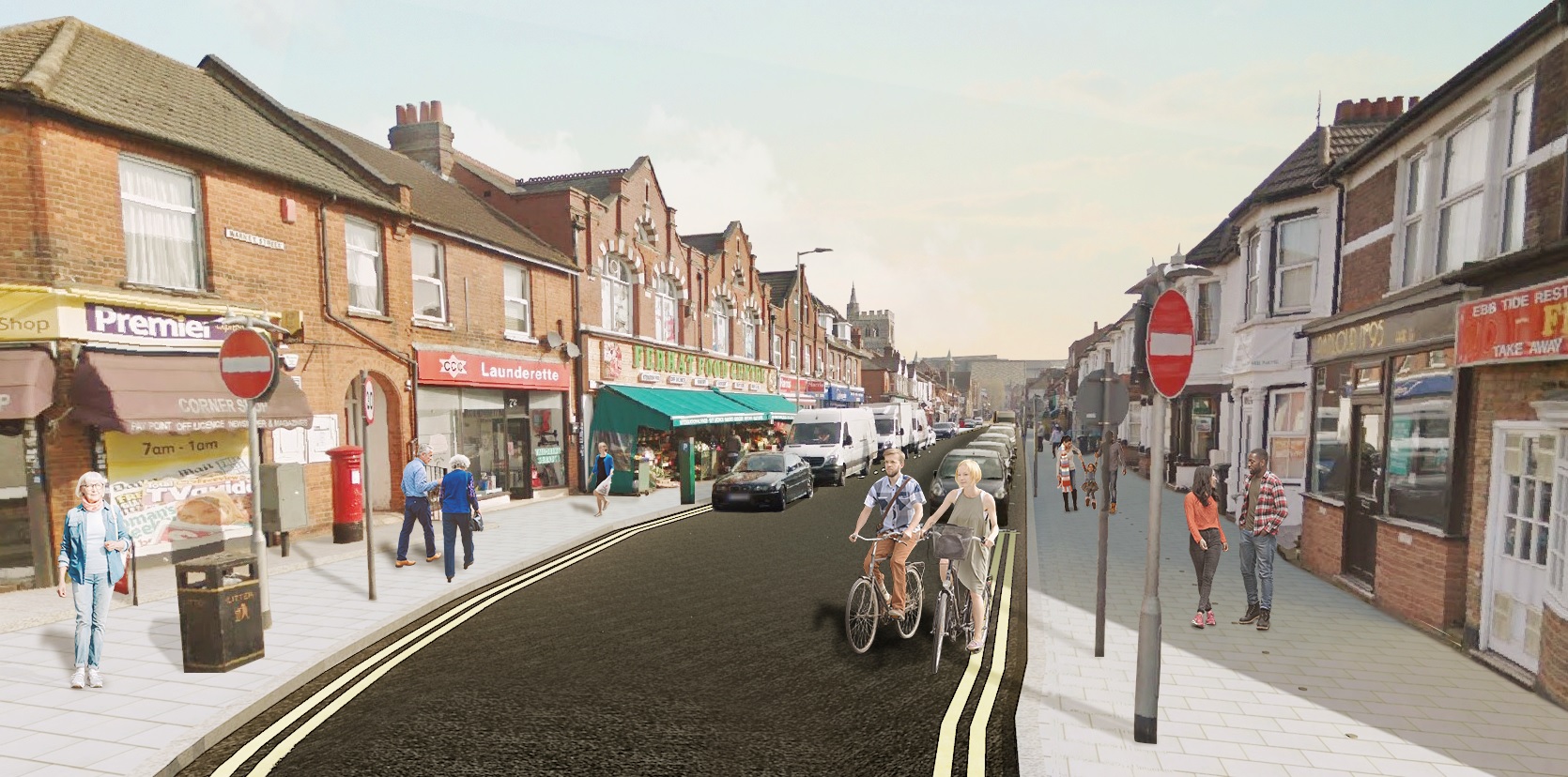 Watford's popular shopping destination Market Street is to benefit from a range of streetscape improvements to improve the look and feel of the area, after local residents and businesses backed a series of council proposals. The two-month project will create an attractive, safe space at the heart of the town centre that will provide a better experience as a place to meet, relax and enjoy.
Works will begin mid-September and includes a comprehensive improvement scheme for this busy parade of shops, restaurants and other businesses and the benefits will include the introduction of better cycle parking facilities, safer cycling routes and new modern street furniture, as well as pedestrian friendly measures including renewed footway paving, improved drainage and strategically placing bollards to prevent illegal parking.
---
- Watford Business Park
The 30 hectare Watford Business Park – located by Greenhill Crescent and Faraday Close - is one of the key employment hubs in the town with over 100 businesses employing 1000-1200 people from Watford and beyond. Whilst it is a major employment area, a significant proportion of the existing buildings are old and not geared to the current needs of business.
Watford Borough Council is kick-starting the regeneration of the park with plans to redevelop the site at the northern entrance with modern, fit for purpose, flexible commercial premises. The Local Enterprise Partnership has committed £5 million of funding which, along with the council's own capital investment will enable the plans to move forward, creating new jobs and business growth in Watford.
The council submitted a planning application in October 2020 for a flagship development providing high quality, sustainable and energy efficient buildings at the entrance to the business park– more information can be found on the dedicated website for the scheme.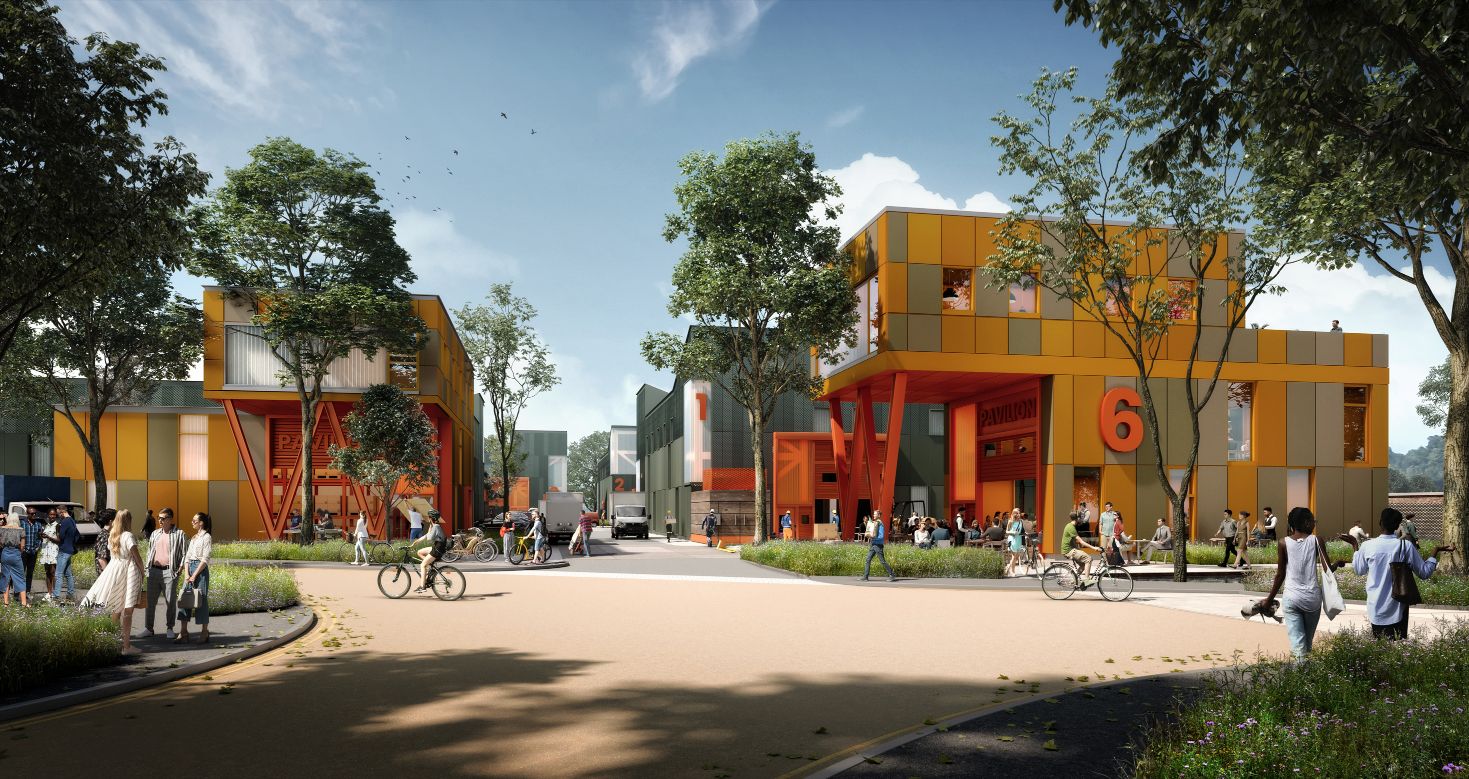 ---
- Watford Riverwell (2015-2035)
Watford Borough Council and its development partner, Kier Property, havebeen working to deliver a masterplan for Watford Riverwell to make sure it's a place that everyone can enjoy. The partnership made great progress with the clean-up of the contaminated land and the River Colne, the opening of the road to Watford Hospital and the completion of Trade City and new homes at Watford Woodlands.The next phase for the partnership is focussed on delivering a new multi-storey car park to serve Watford General Hospital and delivering family homes on the adjacent land.
What about Watford Hospital? West Hertfordshire Hospitals NHS Trust has recently published their proposals to forge ahead with its plans for Watford Hospital. These plans are the responsibility of the Hospital Trust but our masterplan takes the Watford Hospital into account and will continue to support and facilitate progress.
Watford Riverwell is the town's major regeneration project. Over the next 10 – 15 years, the £350million project will transform 65 acres of land surrounding Watford Hospital, much of which was unused, derelict and contaminated. The scheme will create a new, vibrant community that will provide new jobs and homes; local retail, leisure and play facilities, and lots of public green space for everyone to enjoy. For more information, visit riverwell-regeneration.com, email info@riverwell-regeneration.com or call 01923 278077.

---
- Watford Junction
The station - which currently welcomes a whopping 8million visitors every year - will be brought into the 21st century by Watford Borough Council alongside its partners: Halkin, Network Rail, London North Western Railways and Hertfordshire County Council. To create an exciting and vibrant quarter around the town's main station, plans include a new facade, new shopping facilities, new bus stops, better walking routes and a brand new connecting bridge. Plans also include a second entrance to the station and a new ticket hall to banish those long queues at the ticket barriers, a new bus station for the town and a multi-storey car park for station users.
The route to transformation
Phase 1 – New entrance and ticket hall, and retail and refreshment outlets
Phase 2 – Development of the bus station
Phase 3 – Development of 3,000 new homes, new offices and new retail space

---
- Western Gateway
The Western Gateway has been identified in the emerging Local Plan as a Special Policy Area where significant new development is being directed. During 2019 Watford Borough Council will finalise a masterplan for the area which will support the delivery of c.1000 new homes along with local retail and additional employment opportunities.
Two housing schemes, Ascot Road and adjacent to Tolpits Lane, have already been granted planning permission which will deliver over 500 new homes across the two sites. Watford Borough Council is working closely with Hertfordshire County Council to develop options for a sustainable public transport scheme utilising the path of the former Metropolitan Line Extension corridor which will improve local connectivity and reduce congestion through to the town centre. Among the options being considered is a new transport hub at Ascot Road where people will be able to board the new service.

---
- Clarendon Road
As you may have already noticed, significant improvements have taken place at the junction of Clarendon Road and Beechen Grove in Watford. Improvements included resurfacing of the carriageway and footways, upgrading the traffic lights, lamp columns and street furniture and enhancing the overall look and feel of the junction to create an improved 'gateway' to the town centre. A whole host of major improvements will take place until 2023, to help create a sense of arrival for the millions coming through Watford Junction every year. We'll keep you posted on what you can expect from these massive upgrades.

---
Completed projects
- intu Watford
The £180 million pound extension turned Watford in to a 1.4 million sq ft retail, catering and leisure destination and saw the council-owned Charter Place Shopping Centre redeveloped and integrated with the existing refurbished intu Watford shopping centre, placing Watford as one of the top 20 shopping destinations in the UK, alongside Bristol and Edinburgh.
New public spaces for entertainment and events have been created, along with large modern retail units, a restaurant hub, bowling alley and cinema. For more information, please visit intu.co.uk/watford
---
- Watford High Street Improvements
The High Street improvements – led by Watford Borough Council in partnership with Hertfordshire County Council and Watford BID - were undertaken to provide better access for everyone to fully enjoy the town centre, as well as making it brighter and more spacious by laying attractive new paving, upgrading the bus shelters, banishing unwanted clutter, providing a new dedicated taxi rank just behind the High Street itself and offering new permanent disabled parking bays.
Bollards are now in place to prevent vehicles from illegally driving through the town centre, which has also allowed the bus services to provide smoother and quicker travel for residents and visitors to the town.
---
- Oxhey Actvity Park
The development provides a café with a riverside terrace, toilets with Changing Places services, a toddler and junior play area, improving walking and cycling routes through the park including disabled access, recreation facilities for skateboarding, scooters, blading, mountain bikes and BMX.For more information, please visit our dedicated website: www.oxheyactivitypark.co.uk
---
- St Albans Road
Improvements included replacing the pavements to remove the current patchwork of paving materials and to remedy the current poor surface water drainage. The removal of redundant street furniture, guard-railing and unnecessary signage reduced street clutter and the over-provision and poor sighting of traffic signs. New strategically placed street furniture improved the surroundings whilst helping to stop illegal on-pavement parking. The project also include creating new small 'squares' of high quality public realm and community space on Hatfield Road, Victoria Road and Bruce Grove.
---
Watford Junction forecourt project
New paving and lighting, lots of green planting, seating and visitor signposting along with the beginning of a heritage trail that visitors can follow through the town centre and learn interesting things about Watford's history as they go. One of the most noticeable additions was the large freestanding letters spelling out 'WATFORD'.